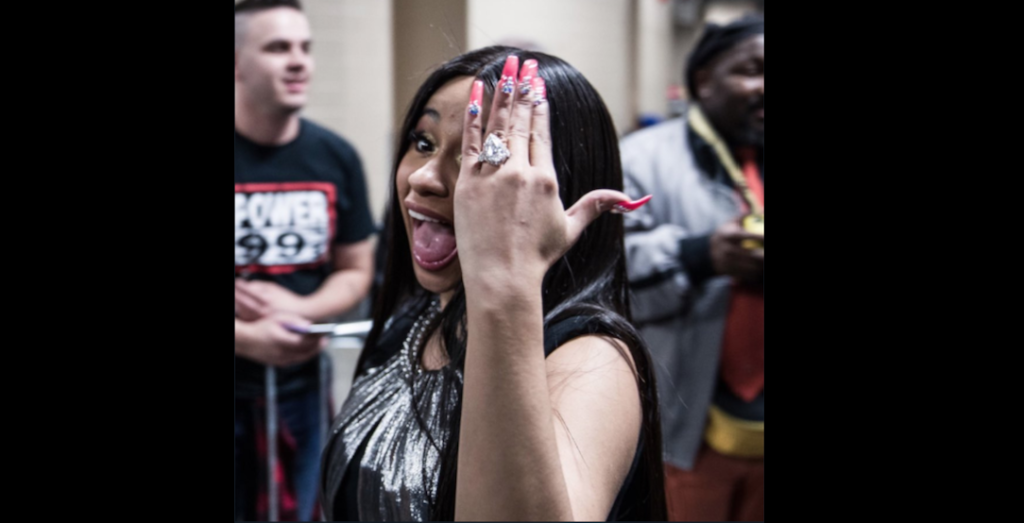 her reaction is so genuine, i love cardi b pic.twitter.com/1cGaEiSpBg

— antonio (@antoniodelotero) October 28, 2017
Who is Having A Better Year Than Cardi B?
28 Oct, 2017
Bodak bride-to-be!
Cardi B and Migos rapper Offset got engaged onstage at Power 99's Powerhouse concert in Philadelphia Friday night.
In a video shared the Wells Fargo Center on Twitter, Offset drops to one knee as fans scream wildly. Cardi B couldn't contain her surprise or excitement, gesturing wildly as she stared at the ring he held out to her.
She appeared to say yes, despite the crowd's cheers muffling her voice, with Offset standing up and calmly placing the ring on her finger. The rapper expressed her love by giving him a hug.
Offset shared video of the engagement and Cardi B's 8-carat diamond ring on his Instagram story shortly after their performance.
"She said yes," read the caption of Offset's video as cheers from the crowd were heard.
The ring, a beautiful pear-shaped diamond, glittered against the rapper's left hand as she showed it off to the camera.
Cardi B shared a photo of herself holding up the ring on Instagram, writing, "Jesus Christ I'm so emotional, @offsetyrn I loveee you so much .Thank you for seeing the potential in me since you met me .For giving me advice molding me and loving me .Your such a amazing man to me your family ,friends ,kids and you are extremely talented.I can't wait to spend FOREVAAAA with you .Lets make a lot shmoney and love together ❤️ ❤️."
The couple have been fending off engagement rumors for months, which began earlier this summer.
Cardi B quickly dispelled them, telling MTV during the 2017 VMA Pre-Show in August, "I'm a woman. Every woman, I think, wants to get married and wants to have children. It's never too early to get married now. You know, if you want to propose to me, you can."
When asked if she'd exert pressure on her partner to propose, the rapper said, "I don't gotta put the pressure, you know what I'm saying? I put it down. Ain't no pressure, baby!"
Cardi B and Offset began dating earlier this year.
People
Image AntonioArellano twitter
Mentioned In This Post:
About the author