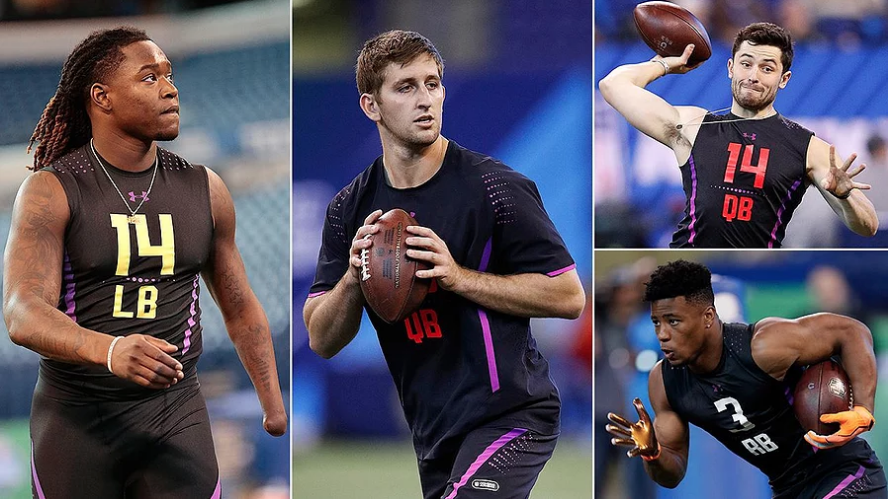 Who Won The Combine?
03 Mar, 2018
Many GMs and fans subscribe to a simple draft philosophy: Best player available.
If the Cleveland Browns brass supports to that belief, Saquon Barkley would come off the board first when the draft opens.
Barkley's name buzzed throughout Indianapolis after the Penn State running back put on a show late last week with an otherworldly display of speed, quickness, athleticism, strength and size.
The buzz has risen to a din that could push Barkley to the top selection in the NFL Draft.
NFL Network Insider Ian Rapoport reported that Barkley is "firmly in the Browns' plans at No. 1." Barkley would become the first running back taken first overall since the Cincinnati Bengals selected Ki-Jana Carter in 1995.
Rapoport noted that Barkley is far and away the top player entering the draft based on conversations with several GMs, coaches, and personnel directors he's spoken to over the weekend. If the Browns go 'best player available,' Barkley could hear his name called first on April 26.
Barkley's combine performance placed him firmly as the best player entering the draft in the eyes of many. The running back's 29 bench press reps were more than future Hall of Fame left tackle Joe Thomas put up. Barkley's 40-yard dash of 4.4 was faster than Devin Hester. His 10-yard split of 1.54 was quicker than speedster DeSean Jackson. And for good measure, Barkley's 41-inch vertical was higher than Julio Jones.
Barkley's physical prowess in dominating the combine matches his on-field game tape from Penn State, where the running back ruled from both the backfield and as a pass-catcher.
The question for Cleveland is whether selecting a running back No. 1 overall makes sense given that their decades-long search for a quarterback continues. With game-changing running backs like Le'Veon Bell, David Johnson, Alvin Kamara, and Kareem Hunt being selecting outside the first round — and the 2018 draft is deep at the position, no less — it sounds ludicrous that a RB would be in the mix to be taken No. 1 overall.
Barkley might just be that good.
Working in the Browns favor is the fact that they also own the No. 4 overall pick. With RB-needy teams sitting behind them at No. 2 (Giants) and No. 3 (Colts), it's likely Barkley would not slide to the fourth selection. If Cleveland rates the top five QBs — Josh Allen, Sam Darnold, Lamar Jackson, Baker Mayfield, and Josh Rosen — similarly, they could snag Barkley and wait for a QB to drop to them at four.
That sounds like the plan right now, with NFL Network's Mike Garafolo noting that along with the Barkley at No. 1 chatter, there is "very strong buzz" Cleveland likes Baker Mayfield at lot, and could pair him with Barkley in a dynamic tandem.
There are many stages left to hurdle before a running back gets taken No. 1 — free agency, Pro Days, further evaluation, trades, etc. — but the fact that Cleveland is even considering such a move speaks to Barkley's incredible upside, even in the modern NFL.
NFL.com
Image SI twitter
Mentioned In This Post:
About the author