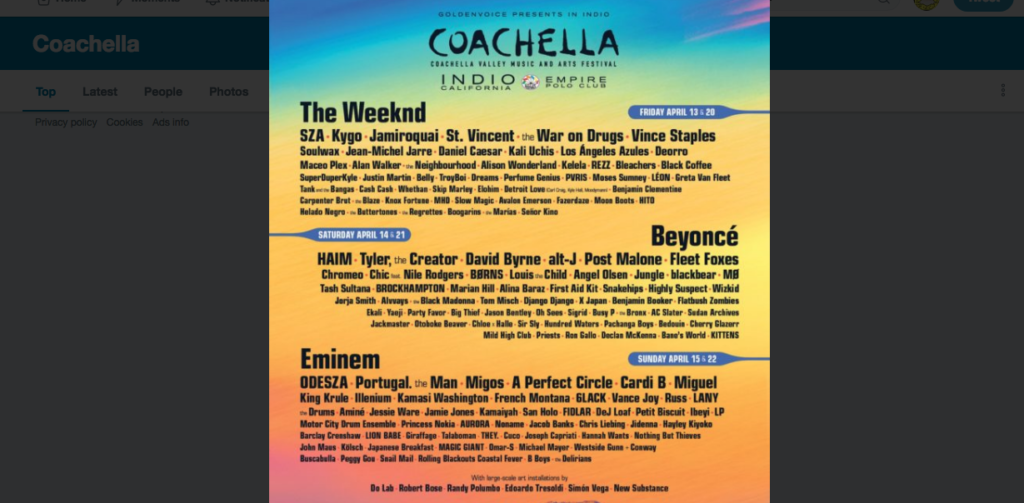 Who's Hitting Up Cochella This Year?
02 Jan, 2018
Beyoncé, The Weeknd and Eminem will headline the 2018 Coachella Valley Music and Arts Festival, the Goldenvoice promoters have announced – ending a 14-month guessing game as to who would join Beyoncé as the top acts at the two-weekend event April 13-15 and April 20-22 at the Empire Polo Field in Indio.
It comes as little surprise. Earlier it was reported by Consequence of Sound that Eminem and The Weeknd would be joining Beyoncé for this year's festival but requests for confirmation of the new headliners were not returned from Goldenvoice producers.
Beyoncé, who has made guest appearances at Coachella with husband Jay-Z and her sister, Solange, was supposed to headline at last year's music festival in Indio, but had to postpone after becoming pregnant with twins.
Passes go on sale at noon Friday at coachella.com. General admission passes are $429, including fees and taxes, while the Festival Pass and Shuttle Combo is $504. VIP Festival Passes are $999 and VIP parking is $150.
Additional general admission passes traditionally go on sale for Coachella Valley residents a few days before each show, but that hasn't been announced.
The new emphasis on hip-hop and R&B, which has supplanted rock as the most popular pop music forms, includes rappers like Tyler the Creator, Vince Staples, Migos, Post Malone and new sensation, Cardi B, who currently has her first three releases in the top 10 of the Billboard charts, becoming only the third artist to debut with three singles in the top 10 along with The Beatles and Ashanti.
Eminem, one of the biggest Grammy Award-winning rap artists of all time, returns to Coachella on a Sunday night after making a guest appearance with Dr. Dre and Snoop Dogg in 2012 in the now legendary set featuring the hologram of Tupac Shakur.
Appearing on the same day as Eminem is the saxophone player who made a name for himself with Kendrick Lamar, the jazz-steeped Kamasi Washington.
Top R&B artists on the bill besides Beyoncé and The Weeknd include SZA, who recently headlined Saturday Night Live, Grammy winner Miguel and Daniel Caesar, who is breaking this year out of Canada. Appearing as somewhat of a godfather of that genre is Chic, featuring the influential Nile Rodgers, which had R&B dance hits such Everybody Dance and Le Freak in the 1970s.
Various genres of rock are represented by the return of War On Drugs on Friday, the sister group, HAIM, and the Brian Wilson-influenced Fleet Foxes on Saturday, and Portugal. the Man on Sunday. All have played previous Coachellas, although Portugal. the Man finally broke into the pop upper echelons this year with its mega-hit, Feel It Still.
The godfather of that genre making an appearance on Saturday night is David Byrne, the leader of the new wave band, the Talking Heads, who have been high on the wish list for a Coachella reunion since the festival's inception in 1999.
Electronic music also has been drawn bigger crowds at Coachella in recent years than rock and its mix with pop music well represented with Kygo on Friday, Chromeo on Saturday and ODESZA on Sunday.
Other noteworthy artists of that genre include Petit Biscuit, a French DJ and music producer who turned 18 less than two months ago. He is half of the indie-pop duo Mount Dreams but released his first solo album, Presence, in 2017. He'll perform on Sunday, as will British house DJ and music producer Hannah Wants, a former professional women's soccer player.
The lineup appears to have been booked with a sensitivity to increasing female participation and ethnic diversity. An interesting booking on Friday is Los Angeles Azules, a Mexican group fusing traditional cumbia and electronic music.
The festival has become known in the industry for its leadership in fine art and cuisine and this year will again offer the four-course Outstanding in the Field dinner in the VIP Rose Garden for $225 a person.
Coachella has dominated industry polls as the top outdoor music event since its inception in 1999. It was recently named the Billboard Top Festival of the Year. It grossed a record $114 million in 2017, marking the first time a reoccurring festival franchise has crossed the $100 million mark at the box office.
USA Today
Image Coachella twitter
Mentioned In This Post:
About the author