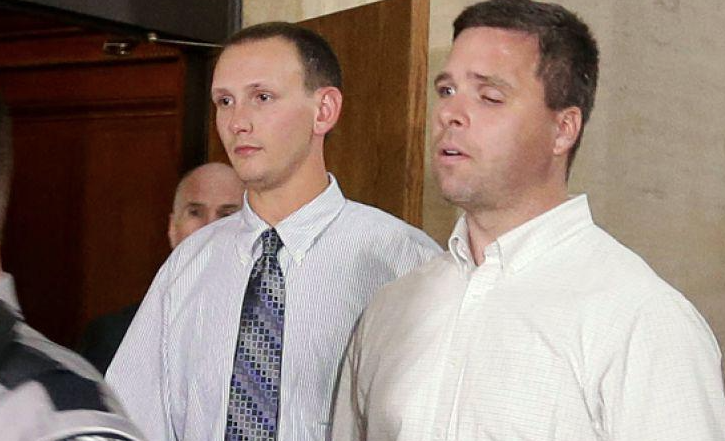 Wisconsin Jury Finds Gun Shop Liable In Police Shooting
14 Oct, 2015
In an unusual case, a jury in Wisconsin declared Tuesday that a gun store had to pay millions of dollars to Milwaukee police officers who were shot by a firearm bought at the store.
The case offered an attention-grabbing combination of factors, including a rare loss for the firearms industry, a verdict awarding more than $5 million in damages, injured police officers and a contested gun sale.
And it also arrived as the country discusses gun violence in the wake of another mass shooting, an ongoing conversation that has led to presidential candidates debating a federal law that protects gun sellers and manufacturers from liability.
Experts say the Wisconsin verdict's long-term impact could be significant if it prompts a surge in new lawsuits aimed at the firearms industry and at the federal law's exemptions, though they caution that the case is far from over, as the lawyer for the gun store says he plans to appeal.
The case centered on a gun that was sold to one person, given to another and then used not long after to shoot two police officers.
In 2009, two Milwaukee police officers named Bryan Norberg and Graham Kunisch were attempting to stop an 18-year-old named Julius Burton for riding his bicycle on a sidewalk. Burton opened fire at the officers, hitting both of them. Norberg was shot in the face, shoulder and knee, while Knusch was shot in the face, hand, shoulder and neck, according to the Wisconsin Supreme Court's account of the case.
Burton was found guilty in 2010 and sentenced to 80 years. He pleaded guilty and later tried to withdraw these pleas, but the state Supreme Court denied that request. Jacob Collins, who bought the gun, was convicted of violating federal gun laws and sentenced to two years in prison.
Norberg and Kunisch both survived and filed a civil lawsuit against Badger Guns, the store that sold the gun Burton later used to shoot them. They argued in the lawsuit that the store knew or should have known that Collins was buying the firearm for Burton, who was too young to buy the gun.
Jurors on Tuesday deliberated for about nine hours before coming to a decision that Milwaukee County Circuit Judge John DiMotto read from the bench. Among other things, DiMotto said that the jury had found the sale to be negligent and that this was responsible for the injuries to both officers.
James B. Vogts, the attorney for Badger Guns, said in an e-mailed statement late Tuesday that he and his clients expected it to wind up in the appellate courts.
"Significant legal issues were decided in the case that impacted the evidence the jury was permitted to consider and the legal standards they were told to apply," Vogts said. "We will appeal."
This shield law — known as the Protection of Lawful Commerce in Arms Act — has been praised by the firearms industry and decried by supporters of gun-control. The law was passed in 2005 following a wave of lawsuits from victims of gun violence and cities. More than 30 states also enacted similar statutes, according to the Law Center to Prevent Gun Violence.
The Wisconsin verdict was believed to be the first such jury verdict since the 2005 shield law was passed. In June, jurors in Alaska cleared a gun shop owner accused of illegally selling a gun later used to kill a man.
Washington Post 
Image Fox and Friends twitter
Mentioned In This Post:
About the author