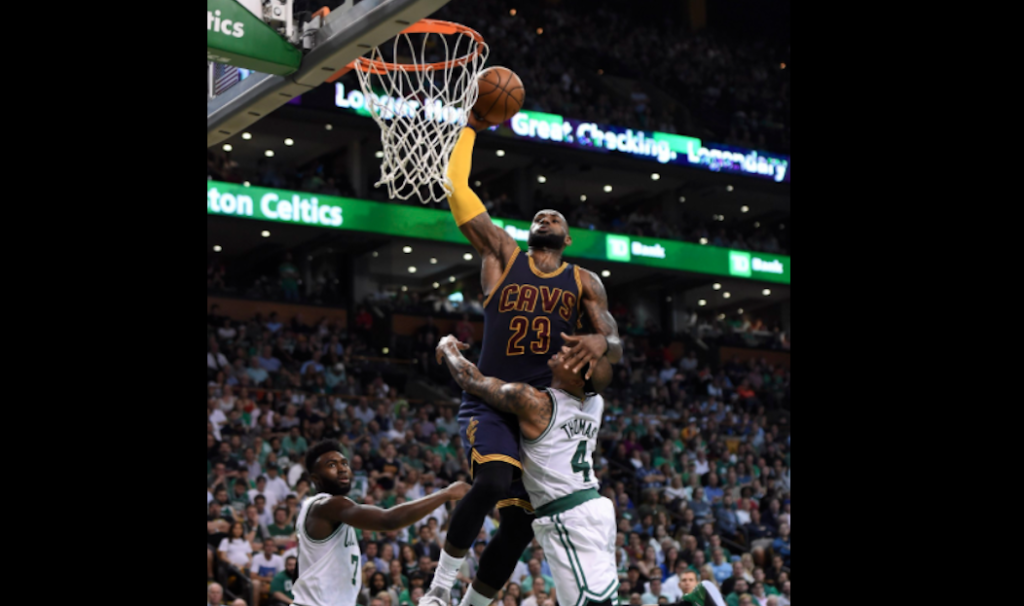 You Didn't Have To Do Em Like That Bron!
18 May, 2017
Maybe giving the defending champs 10 days off wasn't such a great idea?
The only rust in Boston on Wednesday was the shade of burgundy on Cleveland's uniforms, as the Cavaliers blew out the Boston Celtics, 117-104. As always with the Cavs, everything started and ended with the play of Cleveland's royalty, LeBron James.
In just under 42 minutes, James scored 38 points, had seven assists and grabbed nine rebounds. Every thing the Cavaliers did on the offensive end seemed to either begin or end with James, from initiating offense to finding open teammates (Kevin Love pitched in 32 points) to drawing fouls to getting to the free throw line (James was 9-for-11 from the charity stripe).
It was a typically thorough performance from James, who right now is playing with a singular mix of command and poise and craft. During these playoffs, James is regularly stuffing the stat sheet: In Cleveland's nine postseason games, James is averaging 34.8 points in 42.4 minutes, along with 7.1 assists and 9.0 boards. James is making the right play, the perfect read, on seemingly every possession.
"It's not an individual matchup for me, no matter who's in front of me," James said. "My mind is always racing on how I can make this the best possession at that particular time."
"He's really setting the tone for us in these playoffs," said Cleveland coach Tyronn Lue. "It started the second half of the season. I really thought he hit a great stride offensively, and it's carried over into the playoffs. We're just kind of riding it, and Kevin and Kyrie (Irving) and everybody else is just filling in."
Before Wednesday, Cleveland's last game was on May 7, when they won Game 4 in Toronto. Their reward for sweeping Toronto was 10 days off; the downside that came along with the extended break was the off chance that the Cavs may have needed some time to recover their winning form. Turned out, there was no chance.
The Celtics have struggled with several slow starts in their last series against Washington, and coach Brad Stevens tried several lineup tweaks to try and counter Boston's first quarter problems. Cleveland took advantage Wednesday by jumping out to a 22-9 lead and never trailed throughout, leading by as many as 28 points.
"It's hard to believe," said Stevens, "but [James is] better than when I got into the league. A lot better. Just as you get older, you gain more experiences, you see more things. Yeah, I didn't think he could get any better after that, but he is. He's a good player. Great player."
"When LeBron is playing at this level," noted Lue, "other guys just have to be solid and I think we've got a good chance of winning the game. Let's see if we can just keep this up."
NBA
Image USATodaySports twitter
Mentioned In This Post:
About the author