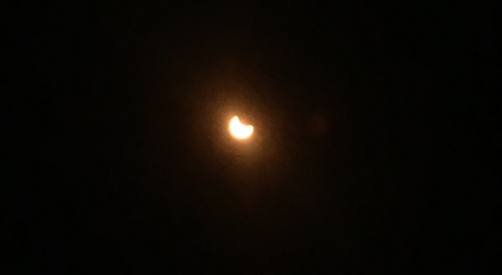 Eclipse History in The Making
21 Aug, 2017
Millions of Americans equipped with protective glasses were taking prime positions on Monday along a ribbon of land across the United States to marvel at the first total solar eclipse to unfold from coast to coast in nearly a century.
After weeks of anticipation, the sight of the moon's silhouette passing directly in front of the sun, blotting out all but a halo-like solar corona, will draw one of the largest audiences in human history, experts say, when those watching via social and broadcast media are included.
Some 12 million people live in the 70-mile-wide (113-km-wide), 2,500-mile-long (4,000-km-long) zone where the total eclipse will appear on Monday. Millions of others have traveled to spots along the route to bask in its full glory.
In Depoe Bay, Oregon, just south of where the phenomenon will first appear at 10:15 a.m. PDT (1715 GMT), thick fog shrouded the water on Monday morning, with the sun hidden behind a curtain of mist and clouds. Visitors had taken every parking space along the sea wall by 6 a.m.
Some 94 minutes after its debut, at 2:49 p.m. EDT (1849 GMT), totality will take its final bow near Charleston, South Carolina, where eclipse gazers on Monday morning began drifting on to the harbor's sea wall.
Officials said the county's 16,000 hotel rooms were booked, and police expected up to 100,000 visitors to the area.
The last time such a spectacle unfolded from the Pacific to the Atlantic was in 1918. The last total eclipse seen anywhere in the United States took place in 1979.
For millions of others outside the zone of "totality," a partial eclipse of the sun will appear throughout North America if there is no local cloud cover.
For those who live too far from the shadow's path or cannot escape the indoors, a NASA-linked website, eclipse.stream.live, and a companion mobile app will provide a live stream filmed from the vantage point of 50 helium-filled balloons at a height of 80,000 feet (24,384 meters).
The sun's disappearing act is just part of the show. As the black orb of the moon nibbles away at the sun's face, the heavens dim to a quasi-twilight and some stars and planets will be visible.
The last glimmer of sun gives way to a momentary sparkle known as the "diamond ring" effect just before the sun slips completely behind the moon, leaving only the aura of its outer atmosphere, or corona, visible in the darkness.
The corona, lasting just two minutes, marks the peak phase of totality and the only stage of the eclipse safe to view with the naked eye.
Reuters
Image Nasa twitter
Mentioned In This Post:
About the author