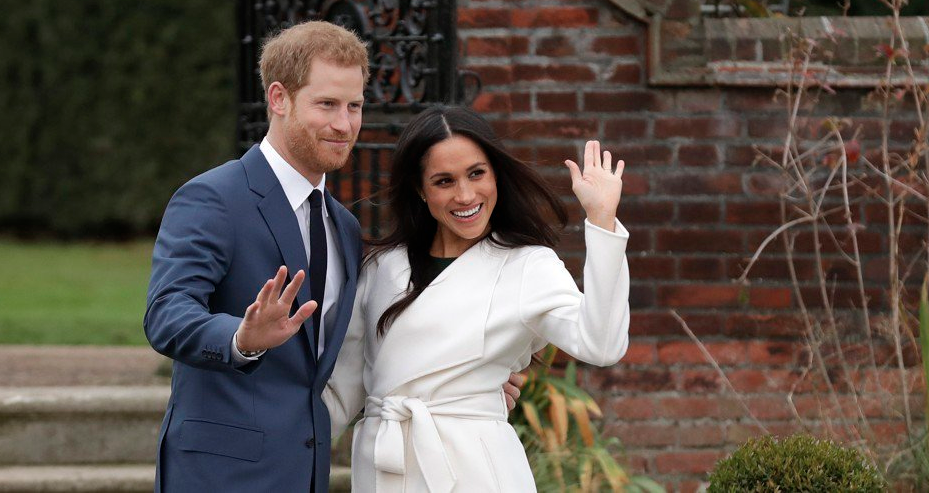 Who's Ready For A Royal Wedding?
27 Nov, 2017
Prince Harry has said he is "thrilled" after announcing that he is to marry the American actor Meghan Markle next spring.
Congratulations have flooded in for the couple, who appeared in public for a photoshoot at Kensington Palace on Monday afternoon, hours after making their engagement public.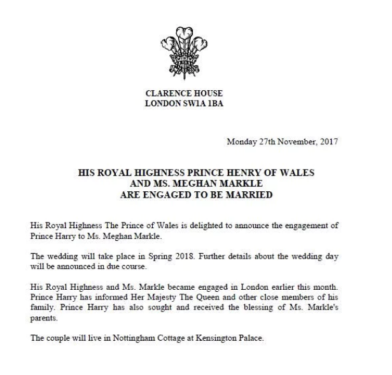 Holding hands, the couple spoke briefly. Harry, wearing a navy blue suit and matching tie, said he was "thrilled, over the moon." He declined to give details about the engagement, which happened this month in London, but joked: "Of course it was romantic." Asked when he knew Markle was "the one", he said: "The very first time we met."
Markle, wearing a white wrap coat, displayed her engagement ring and said she was "so very happy", rubbing Harry's arm affectionately as the couple smiled for the cameras.
The couple will move into a two-bedroom Nottingham Cottage in the grounds of Kensington Palace after the wedding.
The announcement of their engagement was made by Clarence House on behalf of Prince Charles earlier on Monday. Later, the Prince of Wales, speaking for himself and the Duchess of Cornwall, said: "We're both thrilled. We hope they'll be very happy indeed."
The Queen, Prince Philip, the prime minister, Theresa May, and Jeremy Corbyn, the Labour leader, were among others who offered their congratulations.
The ceremony is likely to be conducted by Justin Welby, the archbishop of Canterbury, who said he was delighted by the news and had been impressed by Harry's "immense love for his family".
Harry's brother and sister-in-law, Prince William and Kate, said: "We are very excited for Harry and Meghan. It has been wonderful getting to know Meghan and to see how happy she and Harry are together."
Details of the venue and timing of the wedding are expected to be released on Tuesday, with aides saying only that it will be "a happy church wedding". March is the most likely month, leaving enough time to ensure Kate is not about to give birth to her third child.
Like her fiance, Markle has been involved in humanitarian work. She has travelled to Rwanda as a global ambassador for World Vision Canada and has worked as a women's advocate for the UN.
Her parents, Thomas Markle and Doria Ragland, said in a statement on Monday: "We are incredibly happy for Meghan and Harry. Our daughter has always been a kind and loving person. To see her union with Harry, who shares the same qualities, is a source of great joy for us as parents. We wish them a lifetime of
happiness and are very excited for their future together."
Thomas Markle is a former Emmy award-winning television lighting director who worked on shows including Married With Children and General Hospital. He married Ragland in 1979, but they divorced in 1988. Tennessee-born Ragland is a former TV makeup artist and lives in Los Angeles.
A Buckingham Palace spokesman said the Queen and Duke of Edinburgh "are delighted for the couple and wish them every happiness".
May offered her "very warmest congratulations" to the couple. The prime minister said in a statement: "This is a time of huge celebration and excitement for two people in love and, on behalf of myself, the government and the country, I wish them great happiness for the future."
Corbyn said: "I hope they have a great time and great fun together, and having met Harry a couple of times I'm sure they're going to have a great deal of fun."
The wedding will be the first involving a senior royal since William married Kate at Westminster Abbey on 29 April 2011.
The Guardian
Image TheAtlantic twitter
Mentioned In This Post:
About the author