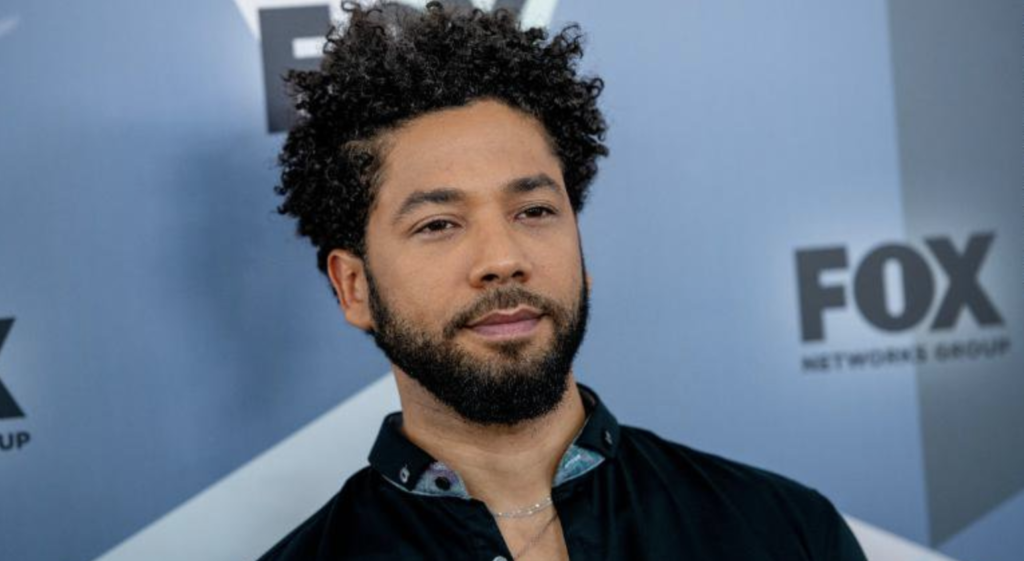 Chicago Strikes Again
29 Jan, 2019
Empire star Jussie Smollett was attacked early Tuesday morning in what Chicago police are calling a possible hate crime, authorities confirmed to The Hollywood Reporter.
The 36-year-old actor was exiting a restaurant in the 300 block of East North Water Street when two suspects began yelling racial and homophobic slurs toward him. They then proceeded to attack Smollett, punching him before pouring an unknown chemical substance over him, police said. At some point during the attack, one of the suspects wrapped a rope around Smollett's neck.
"Given the severity of the allegations, we are taking this investigation very seriously and treating it as a possible hate crime," police said in a statement to THR.
The suspects were described by police to THR as two males wearing black clothing. One offender was wearing a black mask. There were no other identifying characteristics. Around 4:35 p.m., police confirmed to THR that Smollett told them his attackers yelled pro-"Make America Great Again" (MAGA) comments during the attack, such a "MAGA country!"
The comments were not mentioned in the initial report but were added to a supplemental report after another interview with detectives, police told THR.
Smollett was hospitalized for his injuries. A rep for Smollett did not immediately respond to a request for his condition update.
Police are looking for witnesses and reviewing nearby security footage.
The FBI Chicago division declined comment.
In the Fox drama, Smollett plays musician Jamal Lyon, the son of Lucious (Terrence Howard) and Cookie (Taraji P. Henson). The character is gay.
Smollett told Ellen DeGeneres in 2015 that he self-identifies as gay but chooses to keep his personal life out of the public eye. He explained, "There is no closet, there's never been a closet that I've been in."
Lee Daniels, Empire co-creator, reacted to the news, saying, in part, "It's taken me a minute to come to social media about this because Jussie, you are my son. You didn't deserve, nor anyone deserves, to have a noose put around your neck; to have bleach thrown on you … you are better than that. We are better than that. America is better than that. It starts at home. We have to love each other regardless of what sexual orientation we are."
Fox said in a statement: "We are deeply saddened and outraged to learn that a member of our Empire family, Jussie Smollett, was viciously attacked last night. We send our love to Jussie, who is resilient and strong, and we will work with law enforcement to bring these perpetrators to justice. The entire studio, network and production stand united in the face of any despicable act of violence and hate — and especially against one of our own."
In a statement, GLAAD said it reached out to Fox and Smollett's team to offer any help needed.
"Our hearts are with Jussie Smollett as he recovers from a hate-motivated and repugnant attack in Chicago," read the statement from president and CEO Sarah Kate Ellis. "Jussie has always used his voice and talent to create a better world, and it is disgusting that anyone, especially someone who has done such good for so many, would be targeted by undeniable hatred. GLAAD condemns these despicable acts as well as the racism and homophobia that drove them. Law enforcement needs to urgently conduct a thorough investigation and continue to be transparent with Chicago's Black and LGBTQ communities who may be experiencing heightened fears of violence."
She continued: "Jussie's experience is sadly not unique in today's America. Countless LGBTQ and people of color, as well as those who belong to both communities, are faced with hate-motivated violence on a near daily basis. We stand with Black and racial justice leaders to combat hate violence in all of its forms."
Via social media, Empire co-creator Danny Strong said, "I'm deeply horrified and saddened by the racist and homophobic attacks against @JussieSmollett. He is a kind and profoundly talented soul whom I respect with all my heart. The terror of racism and homophobia has no place in our society, it is the most indecent way to live. Whoever did this, do not forget that you are nothing but hate-filled cowards while Jussie's talent and activism will continue to shine a bright light on to the world for decades to come."
Empire executive producer Brian Grazer said, "I am disgusted and saddened by the attack on Jussie, one of the nicest and most genuine people I have worked with. I send him much love on his recovery. Hate and bigotry have no place in our society."
Chad Griffin, president of the Human Rights Campaign — the nation's largest LGBTQ civil rights organization, said via Twitter, "I am sick to my stomach over the news of a violent attack on @JussieSmollett. I'm so glad you are safe, my friend. All of us at @HRC wish you a quick recovery. Law enforcement MUST act quickly & thoroughly given the horrific racist/homophobic details described in news reports."
A statement from the Anti-Defamation League read in part, "This sickening, vile reported attack on @EmpireFOX star @JussieSmollett is a disturbing reminder of the terrible homophobia & racism that plagues society. We stand with you, Jussie, and will never stop fighting against this kind of hateful violence. We call on police to investigate this vile incident as a hate crime and work swiftly to bring the alleged perpetrators to justice."
The NAACP also released a statement.
"The recent racist and homophobic attack on acclaimed actor and activist Jussie Smollett is troubling. The rise in hate crimes is directly linked to President Donald J. Trump's racist and xenophobic rhetoric. It is dangerous for any society to allow a tone of divisiveness and hatred to dominate the political discourse. As this rhetoric continues to bleed into our everyday lives, dangerous behavior will continue to place many law-abiding individuals at risk. We pray for a full physical and mental recovery Jussie Smollett and many unnamed victims of this forum of hate based terrorism"
THR.com
Image cnnbrk twitter
Mentioned In This Post:
About the author