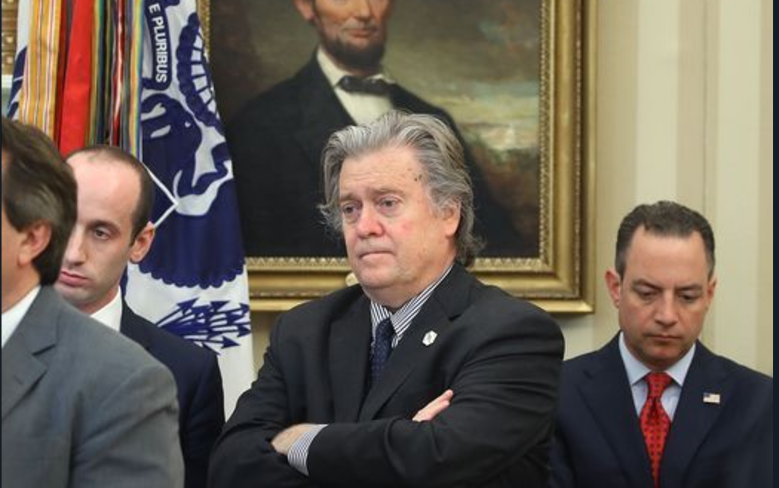 He Gone.
18 Aug, 2017
President Trump on Friday dismissed his embattled chief strategist Stephen K. Bannon, an architect of his 2016 general election victory, in a major White House shake-up that follows a week of racial unrest, according to multiple administration officials.
Trump had been under mounting pressure to dispense with Bannon, who many officials view as a political Svengali but who has drawn scorn as a leading internal force encouraging and amplifying the president's most controversial nationalist impulses.
Sarah Huckabee Sanders, the White House press secretary, said in a Friday afternoon statement to reporters: "White House Chief of Staff John F. Kelly and Steve Bannon have mutually agreed today would be Steve's last day. We are grateful for his service and wish him the best."
Bannon had been expecting to be cut loose from the White House, people close to him said, with one of explaining that Bannon was resigned to that fate and is determined to continue to advocate for Trump's agenda on the outside.
"No matter what happens, Steve is a honey badger," said this person, who like others interviewed spoke on the condition of anonymity because of the sensitivity of the situation. "Steve's in a good place. He doesn't care. He's going to support the president and push the agenda, whether he's on the inside or the outside."
John F. Kelly, the retired four-star Marine Corps general brought in late last month as White House chief of staff, has been contemplating dramatic changes to West Wing staffing that included firing Bannon, a right-wing populist who helped guide the president to victory in the final months of last year's campaign.
The decision by Kelly to fire Bannon came after almost exactly three weeks on the job as chief of staff, a position in which he was given unilateral power to overhaul the West Wing staff in an effort to staunch warring factions, aides and advisers going rogue, and repeated leaks to the news media.
Kelly has no personal animus toward Bannon, said people familiar with his thinking, but was especially frustrated with Bannon's tendency to try to influence policy and personal matters not in his portfolio, as well as a negative media campaign he and his allies waged against national security adviser H.R. McMaster.
Washington Post
Image xandertheblue twitter
Mentioned In This Post:
About the author