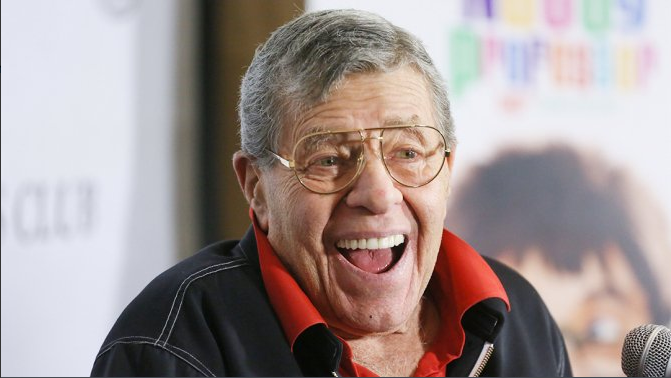 Jerry Lewis, Actor, Philanthropist, Comedian Gone at 91
21 Aug, 2017
Jerry Lewis, the high prince of low-brow comedy on stage and in film as well as a fund-raising powerhouse with his annual Labor Day telethon, died on Sunday at the age of 91, his family said.
Lewis died of natural causes at his home in Las Vegas on Sunday morning with his family by his side, the family said in a statement.
He had been hospitalized for about five weeks beginning in early June for a urinary tract infection, keeping him from traveling to Toronto to appear in a film, his spokeswoman, Candi Cazau, told Reuters by telephone.
Lewis rose to fame as the goofy foil to suave partner Dean Martin. At home, he was both loved and derided, while in France, he became a comic icon.
He once summed up his career by saying "I've had great success being a total idiot" and said the key was maintaining a certain child-like quality.
"I look at the world through a child's eyes because I'm 9," he told Reuters in a November 2002 interview. "I stayed that way. I made a career out of it. It's a wonderful place to be."
Lewis was 87 when his last movie, "Max Rose," came out in 2013, playing a jazz pianist who questions his marriage after learning his wife of 65 years may have been unfaithful.
The son of vaudeville entertainers, Lewis became a star in the early 1950s as Martin's comic sidekick in nightclubs, on television and in 16 movies. At their height, they set off the kind of fan hysteria that once surrounded Frank Sinatra and the Beatles.
Their decade-long partnership ended with a bitter split and Lewis went on to star in his own film comedies.
He starred in more than 45 films in a career spanning five decades. His cross-eyed antics often drew scorn from critics but he was for a time a box-office hit who commanded one of the biggest salaries in Hollywood.
Long after his celebrity faded at home, Lewis was wildly popular in France, where he was hailed as "le Roi du Crazy" (the king of crazy) and inducted into the Legion of Honor, France's highest award, in 1984. He received a similar honor in 2006.
He explained his popularity in France, by saying: "The French are very visually oriented even though they are cerebral. They enjoy what they see and laugh. Then, later, they ask why."
Lewis, born Joseph Levitch on March 16, 1926, in Newark, New Jersey, started on upstate New York's Borscht Belt comedy circuit as a singer at age 5.
He first teamed with the debonair Martin in 1946 while they were performing in an Atlantic City, New Jersey, nightclub – Martin as a singer and Lewis as a comic.
Their largely improvised act, with Lewis making wild comic forays into the audience, was an immediate hit. Their 1950 movie debut, "My Friend Irma," was followed by "My Friend Irma Goes West" the next year.
In 1960, Lewis made his movie directorial debut with "The Bellboy" and starred in the storybook parody "Cinderfella." Three years later, he starred in his most popular movie, the self-directed "Nutty Professor," playing a nerdy academic who makes a potion that turns him into the obnoxiously hip Buddy Love.
Lewis became closely associated with his annual Labor Day telethon to benefit children with muscular dystrophy. He first started doing telethons for the Muscular Dystrophy Association in 1952 before retiring from the job in 2011.
Cazau said that from their inception in 1966 his Labor Day telethons had raised $2.45 billion over some 45 years.
Cazau also said Lewis had been planning to make onstage appearances over the next few months, in New York, and in Las Vegas next year. "He was not a quitter," she said.
Lewis was beset for years by numerous ailments, including heart attacks, an inflammatory lung disorder and chronic back pain caused by pratfalls earlier in his career.
Lewis had homes in Las Vegas and San Diego. He had six sons with singer Patti Palmer, including Gary of the rock group Gary Lewis and the Playboys. After a divorce, Lewis married SanDee Pitnick in 1983, with whom he adopted a daughter.
Reuters
Image Variety twitter
Mentioned In This Post:
About the author