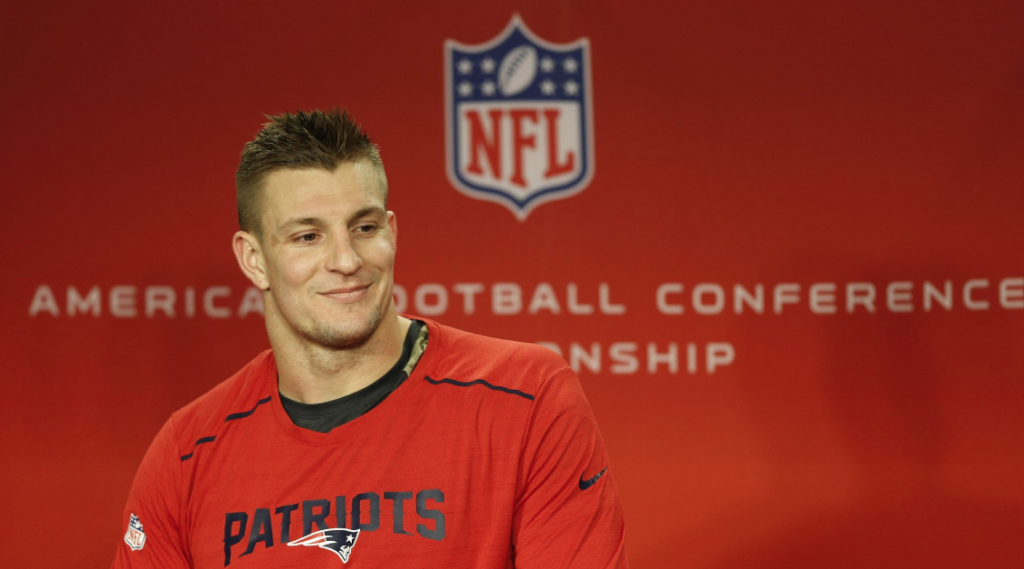 Nobody Robs The Gronk
23 Mar, 2018
Police arrested one of the three suspects allegedly connected to the burglary of New England Patriots tight end Rob Gronkowski's home while he was at the Super Bowl last month.
Foxborough Police Chief William D. Baker announced in a statement Friday that Anthony Almeida, 31, was arrested on suspicion of receiving stolen property and malicious destruction of property. He was arraigned Friday.
Police said the other two suspects – Shayne Denn, 26, of Tewksbury and Eric Tyrrell, 28, of Foxborough – were being sought by authorities for charges related to the burglary. Denn faces three counts of larceny of a firearm, larceny of more then $250, destruction of property and trespassing, while Tyrrell is sought for two counts of receiving stolen property.
While police have recovered an Apple Watch, a Rolex watch and two rare coins, firearms owned by another resident of the house (Robert Goon) are among the items that have yet to be located.
Police responded to Gronkowski's residence on the night of Feb. 5, a day after the Patriots fell to the Philadelphia Eagles at Super Bowl LII in Minneapolis. Baker said in a statement Feb. 6 that his department received a call about a residential burglary and called it "a routine property crime investigation."
The news release Friday was the first time police have confirmed guns were taken from the residence.
One of the officers responded to the home and said he spoke "with the homeowner there who was away on his trip. His house was broken into. Multiple safes, possible guns taken," according to scanner traffic reviewed by USA TODAY Sports on Feb. 6.
Police released Gronkowski's 911 call two days after the burglary:
"Hello, this isn't an emergency. This is just uh, this is Rob Gronkowski calling and uh, while I was gone, my whole house got robbed, uh, while I was on the Super Bowl trip. And I just got back."
USA Today 
Image WEEI
Mentioned In This Post:
About the author