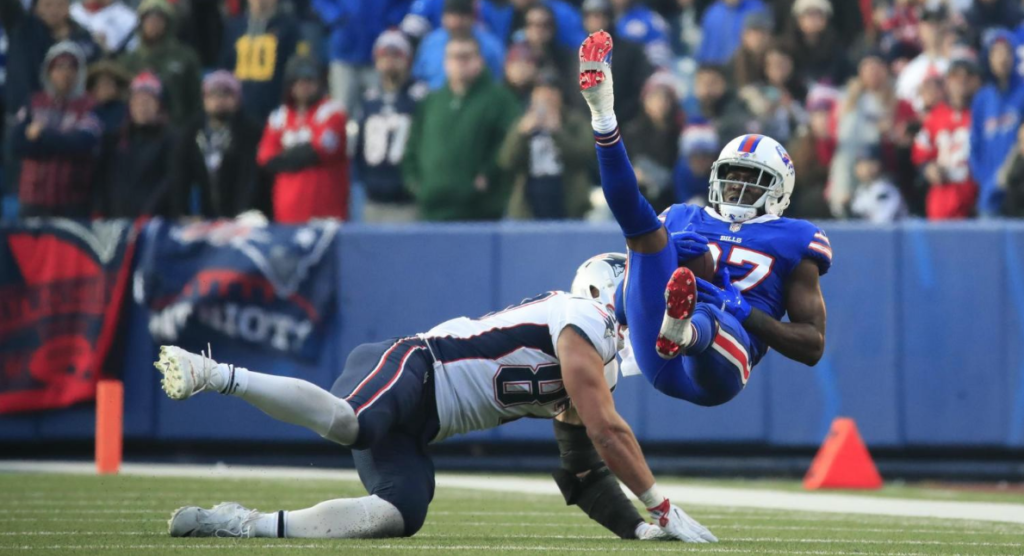 Illegal Late Hit Gets Gronk 1 Game Suspension
04 Dec, 2017
Rob Gronkowski will take a seat for Week 14.
The Patriots star tight end has been suspended one game for violating the NFL's rules on unnecessary roughness, the league announced Monday.
NFL Network Insider Ian Rapoport was told by a source that Gronkowski plans to appeal the ban, which comes as little surprise.
If the punishment sticks, Gronkowski will miss next Monday night's tilt with the Miami Dolphins before returning the following week for New England's ultra-critical clash with the Pittsburgh Steelers.
The suspension stems from Sunday's 23-3 win over Buffalo, in which Gronkowski hit Bills cornerback Tre'Davious White with a late elbow to the neck while the defender was down and out of bounds after the play was whistled dead.
Gronkowski was quickly flagged for unnecessary roughness on the play, which saw White pick off the ball before the Patriots pass-catcher lowered the boom. The eighth-year tight end later apologized to White, who currently is in the league's concussion protcol.
"Your actions were not incidental, could have been avoided and placed the opposing player at risk of serious injury," NFL VP of football operations Jon Rynyan wrote to Gronkowski in a statement released by the league. "The Competition Committee has clearly expressed its goal of 'eliminating flagrant hits that have no place in our game.' Those hits include the play you were involved in yesterday."
Tom Brady is 10-0 (including playoffs) without Gronkowksi in the lineup since 2016, but the quarterback's numbers are significantly better with the monstrous asset in the lineup.
It's possible the punishment gets wiped away in the appeals process, but if Gronkowski isn't able to suit up in Week 14, Brady will be forced to lean on one of his other 247 weapons on offense to do the trick.
NFL.com
Image BNBlitzNow twitter
Mentioned In This Post:
About the author