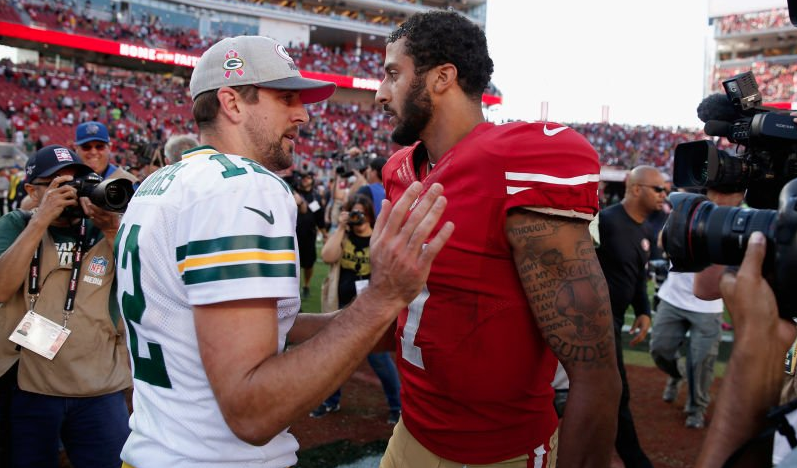 Aaron Rodgers Weighs In On Kaepernick
30 Aug, 2017
Colin Kaepernick remains unsigned with the start of the NFL's regular season just eight days away.
While the debate as to why Kaepernick is a free agent ranges from being blackballed for his national anthem protests to he's not a very good quarterback, Green Bay Packers quarterback Aaron Rodgers offered his opinion.
"I think he should be on a roster right now," Rodgers told ESPN The Magazine. "I think because of his protests, he's not."
Kaepernick refused to stand during the national anthem as a protest to police brutality and racial injustice and oppression during the 2016 season. Other players such as Seattle Seahawks defensive linemanMichael Bennett, Oakland Raiders running back Marshawn Lynch and San Francisco 49ers safety Eric Reid have continued the protest in 2017.
Rodgers said while he will stand during the national anthem, he has had conversations with teammates about the issues and said he supports any teammate or other players who refuse to stand during the anthem.
"I'm gonna stand because that's the way I feel about the flag – but I'm also 100 percent supportive of my teammates or any fellow players who are choosing not to," Rodgers told ESPN The Magazine. "They have a battle for racial equality. That's what they're trying to get a conversation started around."
Rodgers' response was very different when he was asked about the anthem protest during the 2016 season.
Rodgers said he has discussed the issue with new teammate and tight end Martellus Bennett, the brother of Michael Bennett.
"I think the best way I can say this is: I don't understand what it's like to be in that situation. What it is to be pulled over, or profiled, or any number of issues that have happened, that Colin was referencing – or any of my teammates have talked to me about," Rodgers said. "But I know it's a real thing my black teammates have to deal with."
Oregon Live 
Image The Root twitter
Mentioned In This Post:
About the author