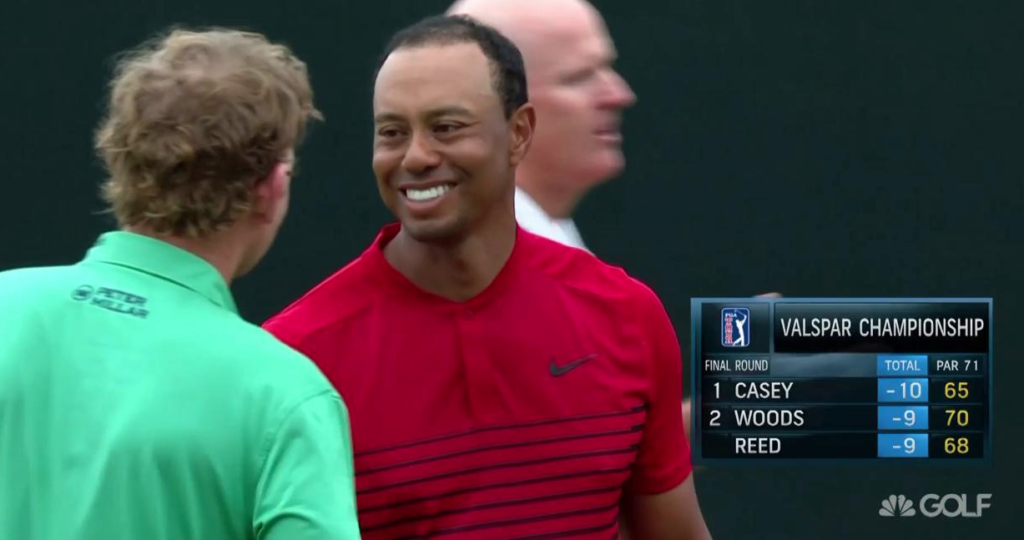 America Is Great Again….Tiger Woods is Back!
11 Mar, 2018
Englishman Paul Casey surged to victory at the Valspar Championship in Florida on Sunday as Tiger Woods finished one stroke behind in a tie for second place.
Woods lamented a "couple of putts here and there" that could have produced a different outcome but his performance nevertheless was unmistakable proof that he is a force again after last April's spinal fusion on his lower back.
He said he felt comfortable mentally on Sunday but had not quite had his best game.
"I didn't feel that sharp with my iron game," Woods told NBC. "I played very conservatively into the greens because I wasn't as sharp as yesterday.
"I keep getting just a little bit better and a little bit sharper (in general).
"Today wasn't quite as sharp as I would like to have had it but I had a good chance at winning this tournament. A couple of putts here and there and it could have been a different story."
The old Tiger magic was missing for most of the day for the 14-times major champion in his quest for a chance to record his first victory since 2013.
Missing, that is, until the par-three 17th, where Woods perfectly read and then executed a 45-foot birdie putt, his ball curling deliciously into the center of the cup as the gallery went berserk.
But Woods could not replicate the magic at the par-four 18th, where he missed a difficult 40-foot birdie putt that would have forced a playoff with Casey at the Innisbrook Resort in Palm Harbor.
Woods carded 70 and had to settle for second with fellow American Patrick Reed (68), who made an embarrassing bogey at the last when his first putt, through the fringe, failed to make it up the hill and rolled all the way back to his feet.
When the dust settled, Casey, long in the clubhouse with a 65 for 10-under 274, could finally celebrate his second victory on the PGA Tour.
"The guy's got more victories than all of us put together," a relieved Casey, the former world number three, said of Woods.
"He made it look easy for such a long time and it's not. I won a few times in Europe (13) but to get my second victory on the PGA Tour, it's emotional. I've worked hard for it.
"I lost a friend last Saturday, played with a heavy heart. Maybe that was the difference."
Reuters
NBC Sports twitter 
Mentioned In This Post:
About the author