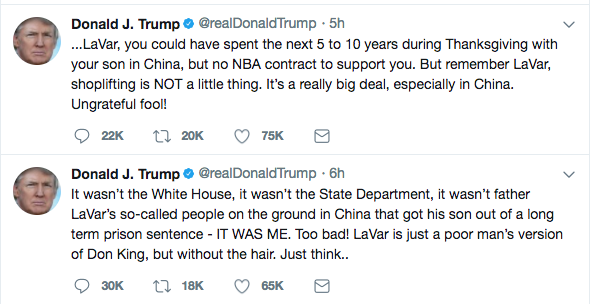 At 4:33am Our President is Up Ranting About Lavar Ball
22 Nov, 2017
President Donald Trump referred to LaVar Ball as an "ungrateful fool" and "just a poor man's version of Don King, but without the hair" in a series of tweets Wednesday morning.
Trump waited more than 24 hours to retaliate against Ball, who appeared on CNN on Tuesday night and again downplayed the president's role in bringing home three UCLA basketball players, including Ball's son LiAngelo, after a shoplifting incident in China earlier this month.
"It wasn't the White House, it wasn't the State Department, it wasn't father LaVar's so-called people on the ground in China that got his son out of a long term prison sentence – IT WAS ME," Trump wrote in a two-part tweet early Wednesday morning. "Too bad! LaVar is just a poor man's version of Don King, but without the hair.
"Just think LaVar, you could have spent the next 5 to 10 years during Thanksgiving with your son in China, but no NBA contract to support you. But remember LaVar, shoplifting is NOT a little thing. It's a really big deal, especially in China. Ungrateful fool!"
With his tweets, the president of the United States continued an ongoing feud with LaVar Ball, the brash father of Los Angeles Lakers rookie Lonzo Ball and two other NBA hopefuls.
In an interview on CNN on Tuesday night, LaVar Ball refused to thank Trump for helping to ensure that his son LiAngelo, Jalen Hill and Cody Riley — all freshmen on the UCLA basketball team — returned home safely after being arrested for shoplifting from three stores near their hotel in Hangzhou, China during the Bruins' trip overseas for a game against Georgia Tech.
Asked by ESPN about Trump's role in the situation over the weekend, Ball said, "Who?" Then, on CNN, he doubled down.
USA Today
Image Trump Twitter
Mentioned In This Post:
About the author