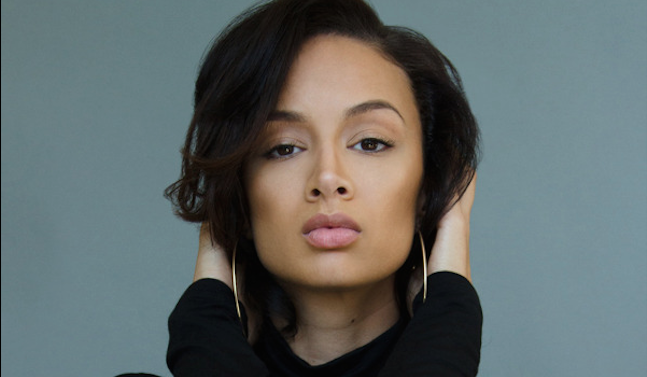 Draya Michele: Life is Good
12 Jul, 2015
The Trending Report delved into the life of a reality tv star in an intimate conversation with Draya Michele of VH1's hit series Basketball Wives.
Life has been somewhat of a rollercoaster ride for reality television star Draya Michele. Life in the limelight definitely has its highs but as Michele tells The Trending Report, it also has its lows.
Michele gained mainstream notoriety as the breakout star of VH1's hit series Basketball Wives.  Sometimes seen as an easy target for a few of the cast members that include Jackie Christie, Shaunie O'Neal, Brandi Maxiell, Tami Roman, Malaysia Pargo and new to season 4, Patrice Curry, Michele always manages to find a way to overcome.
The name calling and demeaning accusations came to a head in an explosive season 3 episode where Michele was involved in an altercation with Christie's friend Sundy Carter that left Carter with a bruised eye.
While it seemed the world was against her, Michele's growing fan base offered support.  "People get upset when they see people pick on me and they want to fight for me" Michele said "but I don't consider myself a victim at all. I consider myself a victor."
With 3.7 million Instagram followers and almost 700,000 Twitter followers, Michele has parlayed her stint on Basketball Wives into business opportunities, varied television appearances and acting roles.
"I watched The Cosby Show growing up and was really excited to have the opportunity to work with Keshia Knight Pulliam and also Marques Houston" on TV One's movie 'Will To Love' where Michele played the lead character's love interest. "What a way to break the ice for me in acting than to work with two actors who are so skilled and so talented."
She took acting lessons before filming to get "all of the nervous energy out" and maintained that energy during the launch of two
clothing lines: Mint Swim and Fine Ass Girls.
"Aside from my 12-year-old son, Mint Swim is my proudest accomplishment," Michele said. "I think that with any brand you have someone that's influential behind it which would be me in this case. People are going to believe in it because I believe in it. So because I believe in it I'm able to make other people believe in it as well."
When Selena Gomez was photographed wearing the Fiona swimsuit from Mint Swim earlier this summer Michele couldn't have been more excited. It seemed the possibilities were endless.
"I would looooove to see Rihanna in my swimsuits, Kim Kardashian in my swimsuits, Beyonce in my swimsuits. Both of their daughters Blue and North would be super cute in Mint Swim," Michele contended.
Describing the brand as sexy, fun and trendy Michele credits its success to the hard work she's put into it. "I put a lot of thought into this," Michele said. "Also, I listen to a lot of my customer's request. I try to meet them so I can please as many people as I can."
But she admits it wasn't as easy as it looks. "I made the typical start-up business mistakes and those just come from not knowing and not being educated enough. I probably could've or should've taken a few business classes in the beginning. I probably should've taken a few fashion classes in the beginning. I've messed up a couple batches of swim suits and I've messed up money but it's just the learning process that you go through."
Michele has taken those lessons and applied it to her life as well. "I've changed in that I'm aware that people are looking at me and I don't necessarily like to use the platform that I was given to showcase negative stuff. I know that there's a lot of young girls that are watching me and I don't want to lead them in the wrong direction."
From the outside looking in, Michele's life appears to be a constant array of red carpets, photo shoots and parties. Her experience as a video vixen and uncanny ability to take the perfect selfie (we'll get into that later) has made her a constant  'Woman Crush Wednesday' hashtag on several social media outlets.
But on the contrary, everyday life is a bit low-key or dare I say normal.
Describing her typical day, Michele says "I wake up in the morning and before I even get out of the bed I look on the internet, I read all the blogs. I like all the little celebrity gossip even though most of it is false. I still like to read it. I think it's fun. I check my emails. Then I get up, I shower, I get dressed then I go to work. Usually I go to my office or my factory which are in two different places. I like to be home by 5pm for when my son gets home from school. Then I cook dinner and relax."
"I wear a lot of Nike. Like literally from head to toe. I'd wear a whole Nike outfit if I have it clean and I wear a lot of the same clothes over and over. I do laundry on Monday so on Tuesday I have all of my clean Nike clothes ready. I'm happy when I have a fresh pile of Nike clothes to wear all week."
She's also happy when she gets to enjoy a bit of her celebrity. "I've just become a little bit spoiled and a little accustomed to people treating me super nice wherever I go. Occasionally I go someplace where no one knows who I am and no one rolls out the red carpet for me and sometimes I'm a little bummed out about it."
But Michele's fans won't have to worry about being bummed out because here are her tips on how to take the perfect selfie and Michele's advice on keeping it sexy. Enjoy!
Draya Michele's Selfie Tips:
Natural lighting is the best. Car selfies are usually really cute or a selfie by a window. And know your angles! I know my angles. I only take selfies one way with one angle.
Selfie stick or no selfie stick?
No selfie stick.
Draya Michele's 5 ways to be summer sexy:
Wear mint swim, drink a lot of water, wear your sun block because sun burn is not sexy, water proof mascara, and a lot of bronzer.
What is Draya listening to?
I listen to a lot of Drake. My most recent album is Rico Love's album.
What's in Draya's fridge?
There's a lot of fresh fruits and vegetable and a lot of yogurt. That's really it. We don't keep a lot of juice or things like that in the house because we don't really drink that. We keep a lot of water in the house but we keep it in the pantry because we like it room temperature.
Are you a vegetarian?
No but I buy my meat when I cook it. I buy it fresh and cook it that day.
What is Draya's perfect perfume?
Bonbon by Viktor & Rolf
What are your summer reading musts?
I like GQ magazine. For some reason I like all the men's magazines. You know you get to see what they're doing. They're trying to keep up with us but we have to keep up with the guys to. I read a lot of GQ when I'm traveling. I buy them at the airport. I do a lot of my reading on-line to.
What's your exercise routine?
I do a lot of hiking. We have a lot of trails near my house and hiking is the thing to do nowadays.
In a previous article you said that reality tv was a great way to tell your story, so what is your story?
I just wanted people to know that I was a normal girl. I wasn't married to someone that was rich. I didn't come from a rich background and everything I got I had to work for. I wanted people to see it from start to finish.
B. Owusu
Images Chris Paul Thompson
Mentioned In This Post: @DrayaFace, @BasketballWives
About the author