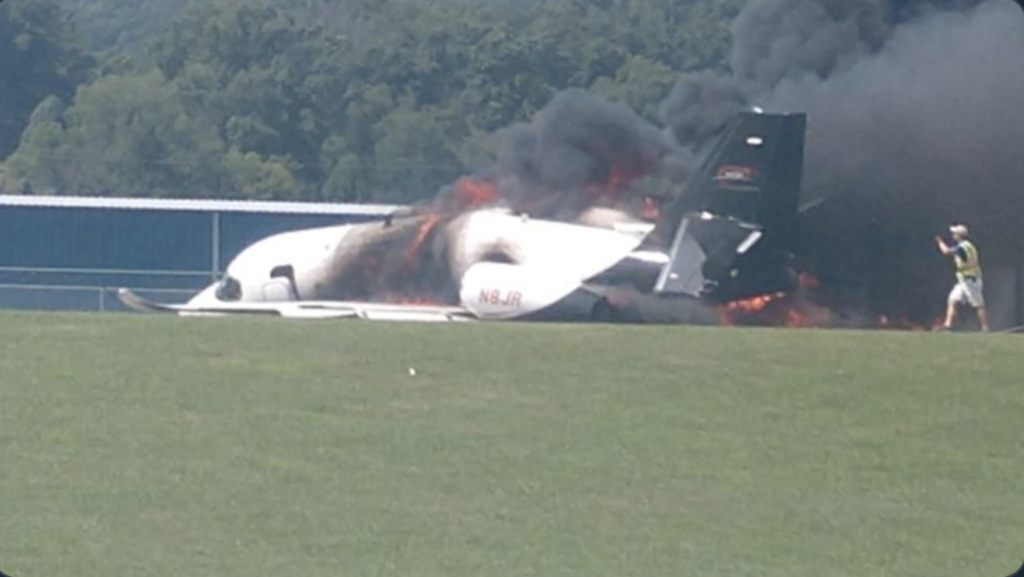 NASCAR Legend and Family In Fiery Plane Crash
15 Aug, 2019
NASCAR legend Dale Earnhardt Jr. has been discharged from an East Tennessee hospital after he and his family escaped the burning wreckage of a crashed plane at the Elizabethton Municipal Airport on Thursday afternoon.
All passengers who were on board, including Earnhardt, his wife, daughter and two pilots, made it out of the plane alive, Carter County Sheriff's Office spokesman Thomas Gray confirmed.
NBC Sports confirmed that Earnhardt was discharged from a hospital and that he will not call NASCAR races for the network this weekend at Bristol Motor Speedway.
Elizabethton Fire Chief Barry Carrier said that Earnhardt, his wife and daughter were aboard the plane and escaped the wreckage while it was already engulfed in flames after the crash. The plane, Carrier said, wrapped around a fence at the end of the runway and slid to a fiery stop in a grassy area before the Earnhardts, two pilots and a dog evacuated the crash site.
Earnhardt was taken to a local hospital for observation with no serious injuries, Carrier said.
"The first word to come to my mind is that they were very lucky," Carrier said. "It looks like everything worked in their favor instead of against them."
The NTSB said it was sending two investigators to the crash site in Elizabethton. The FAA released a statement shortly after the crash Thursday.
"A Cessna Citation rolled off the end of Runway 24 and caught fire after landing at Elizabethton Municipal Airport in Tennessee at 3:40 p.m. today," a Federal Aviation Administration statement read.
"Preliminary indication is that two pilots and three passengers were aboard. Local officials will release their names and conditions … The FAA will investigate and the National Transportation Safety Board will determine probable cause of the accident."
The Tennesseean
Image wsbtv twitter
Mentioned In This Post:
About the author