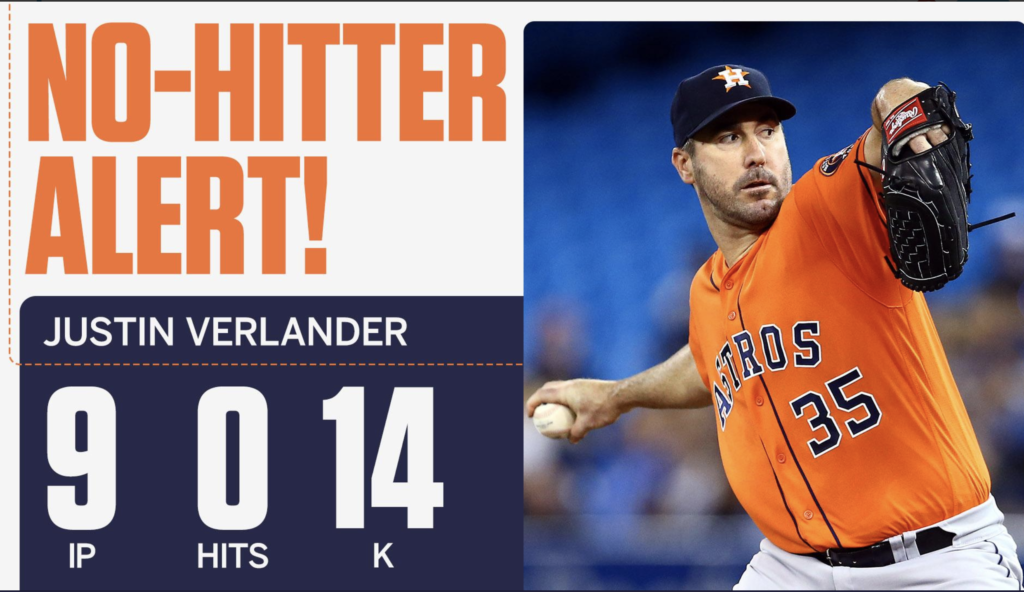 This Old Man Can Still Pitch! #NoHitter
01 Sep, 2019
Justin Verlander had felt this feeling before — in the very same building, in fact. When the final out was made, capping his third-career no-hitter in Houston's 2-0 win over the Blue Jays on Sunday, he raised his arms skyward, let a smile spread across his face and awaited a mob scene with his teammates.
In 2011, Verlander stood on the same Rogers Centre turf celebrating the same thing. With Sunday's no-no, he became the third pitcher to throw multiple no-hitters against the same team — and the first to throw two in the same ballpark as a visitor. As a Tiger, Verlander's first no-hitter came in 2007 at Comerica Park against the Brewers.
With his third no-hitter, Verlander joined Nolan Ryan, Sandy Koufax, Bob Feller, Larry Corcoran and Cy Young as the sixth pitcher ever to throw three or more in their careers. It's a feat that was not lost on the 36-year-old ace.
"I'd be lying if I said I didn't know that," said Verlander, who has twice lost a no-hitter in the ninth inning. "Definitely a big hurdle to get over, and a special moment for me."
This special moment is one of many threads woven into the tapestry of Verlander's illustrious career, in which he has evolved and adapted to remain one of the game's best. When he thinks about what has happened since the 2011 season — an MVP, injury woes, a World Series ring — Verlander realizes how much has changed.
"The last one, 2011, was kind of the height of my pitching as a young man," he said. "You know, '11 and '12 went well, then '13 and '14 I had some injuries plague me a bit. The process of coming back is not easy. … [My family] knows how hard I work behind the scenes, and I think that's one of the things that they're most proud of."
MLB.com
Image SportsCenter twitter

Mentioned In This Post:
About the author