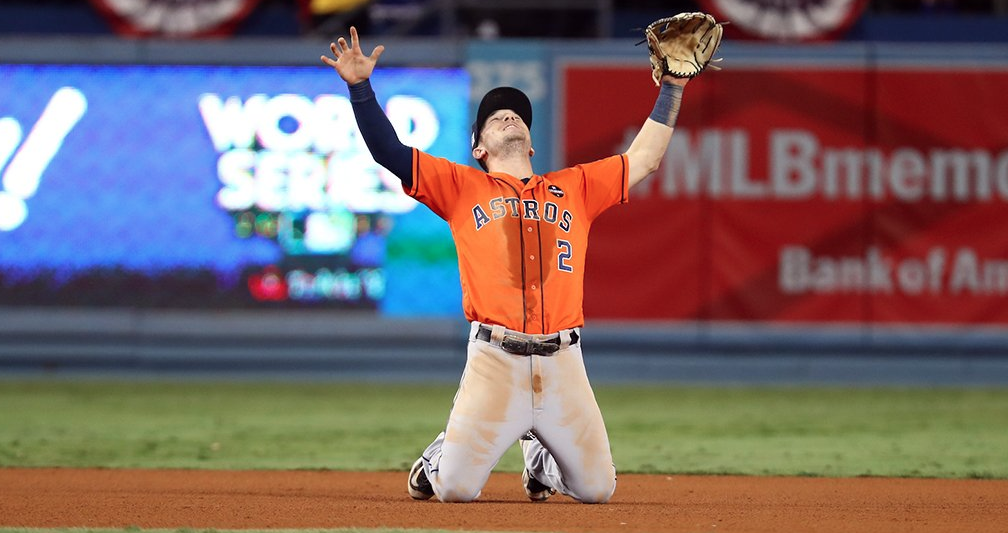 After All The Pain, The Astros Bring Houston A Championship
02 Nov, 2017
The Houston Astros are all alone in the baseball stratosphere, coming through just when their city needed them most.
Just a little over two months ago, the Astros were displaced, disconsolate and helpless, grieving that they could not do more for a city ravaged by Hurricane Harvey and its aftermath. All the Astros could do then was play baseball, to give their fans common cause and a little distraction.
All they can do now is revel in the first World Series title in the history of both the city and the state. It seems like so much.
In one of the most dramatic World Series ever, the Astros sucked the air out of Dodger Stadium from the outset. They jumped on Los Angeles Dodgers starter Yu Darvish for five early runs and then cruised to a 5-1 clincher on Wednesday, the first World Series Game 7 at Dodger Stadium.
As he's done so many times during his spectacular young career, Astros outfielder George Springer sparked it all, leading off the game with a double and scoring on Cody Bellinger's throwing error. Then he broke the game open in the second inning with a comet-like homer to left-center that gave Houston its initial five-run lead. No team had ever overcome a deficit that large in a winner-take-all World Series game. Lance McCullers Jr. and his bullpen made sure that stat remained in effect.
Springer became the first player with homers in four straight games in one World Series. He tied Reggie Jackson (1977) and current Dodger Chase Utley(2009) with five homers in one Fall Classic. He also set a new mark with 29 total bases. All this after his rough start in the series led to some in the media worrying if his swing had gone wrong. Clearly not.
Almost all the young Astros' stars contributed to their historic win. Alex Bregman scored a run and made a couple of nifty defensive plays. Jose Altuvedrove in a run on a groundout. McCullers pitched around some early command troubles — he hit a postseason record four batters — and drove in a run at the plate. Carlos Correa singled off of Clayton Kershaw.
Thus completes the rapid rise of a franchise only three years removed from the third of three straight 100-loss seasons, one of the worst trios of campaigns any franchise has ever had. Houston becomes the fourth team to go from 100 losses to a title within five seasons, joining last year's Chicago Cubs.
ESPN.com
Image MLB twitter
Mentioned In This Post:
About the author