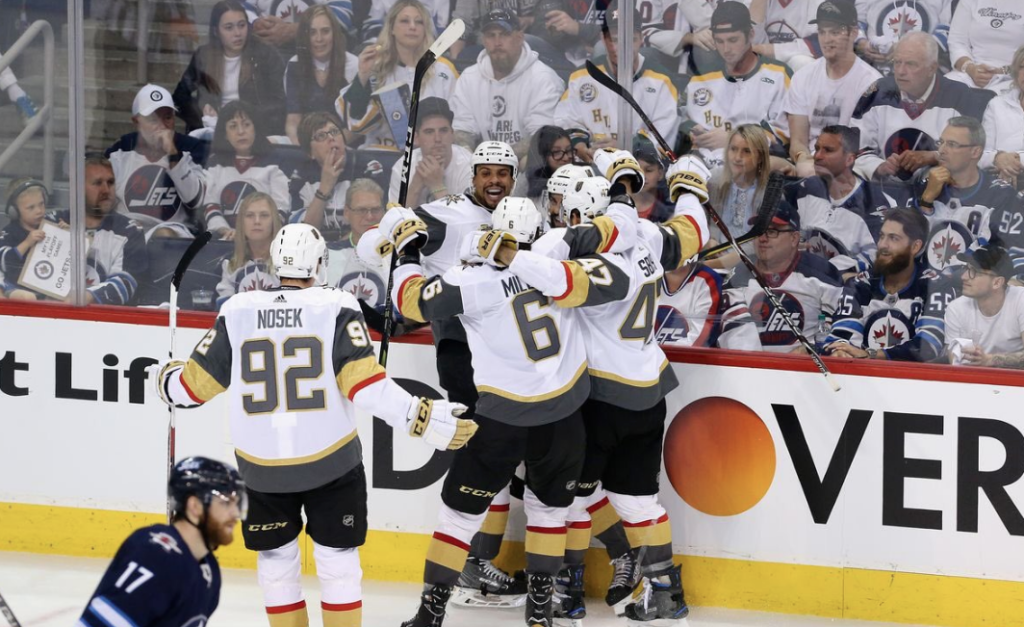 500 to 1, We'll Take Those Odds
20 May, 2018
The Vegas Golden Knights advanced to the Stanley Cup Final with a 2-1 win against the Winnipeg Jets in Game 5 of the Western Conference Final at Bell MTS Place on Sunday.
Vegas will face the winner of the Tampa Bay Lightning and Washington Capitals. The Lightning lead that best-of-7 series 3-2.
"It means a lot to us," Golden Knights defenseman Deryk Engelland said. "This is what you play for all season. After [the Oct. 1 mass shooting in Las Vegas that killed 58 and injured hundreds more] those first games … you want to play for the city, the people that were affected by it. To make this run, win this series, it's awesome for us, but it all comes back to the city and the people affected by that."
Alex Tuch and Ryan Reaves scored, and Marc-Andre Fleury made 31 saves for the Golden Knights, who became the third team to advance to the Cup Final in their inaugural season, joining the Toronto Arenas (1918) and St. Louis Blues (1968). Vegas also became the sixth team to reach the Cup Final in its first postseason appearance, joining the Montreal Maroons (1926), Boston Bruins (1927) and Florida Panthers (1996).
"The whole mentality of this team is next man up," Reaves said. "We've got a deep team, we've got a lot of good players. You look at the season this team had even before I got here, everybody's stepping up. The guys that weren't playing, myself included, we stayed ready. We had fun while we were doing it, but we worked hard so when we were called upon we were ready to go."
Josh Morrissey scored and Connor Hellebuyck made 30 saves for the Jets, who lost four straight after winning Game 1.
"I still think we did things right, got our chances," Hellebuyck said. "Luck was on their side, definitely. I've never seen anything like it. Even their goals tonight were two tips. I don't know. It's tough to swallow."
Reaves scored to give the Golden Knights a 2-1 lead at 13:21 of the second period, redirecting Luca Sbisa's shot from the point. The goal was his first with the Golden Knights since being acquired in a trade with the Pittsburgh Penguins on Feb. 23.
Tuch made it 1-0 at 5:11 of the first period, beating Hellebuyck blocker side from the high slot off a turnover by Morrissey, whose outlet pass hit the skate of Ryan Carpenter and bounced to Tuch.
Vegas is 10-1 in the Stanley Cup Playoffs when scoring first.
Morrissey tied it 1-1 at 17:14, scoring on a one-timer off a face-off win by Bryan Little.
"Throughout this whole thing until that buzzer blew tonight, I never thought we were out of it, never thought we wouldn't find a way back into it," Jets forward Blake Wheeler said. "It just seemed like every time we grabbed some momentum, they took it. So we can use whatever we want to do, but you have to give them a ton of credit for doing that. It's the sign of a good team."
NHL.com
Image Jayzfan twitter
Mentioned In This Post:
About the author