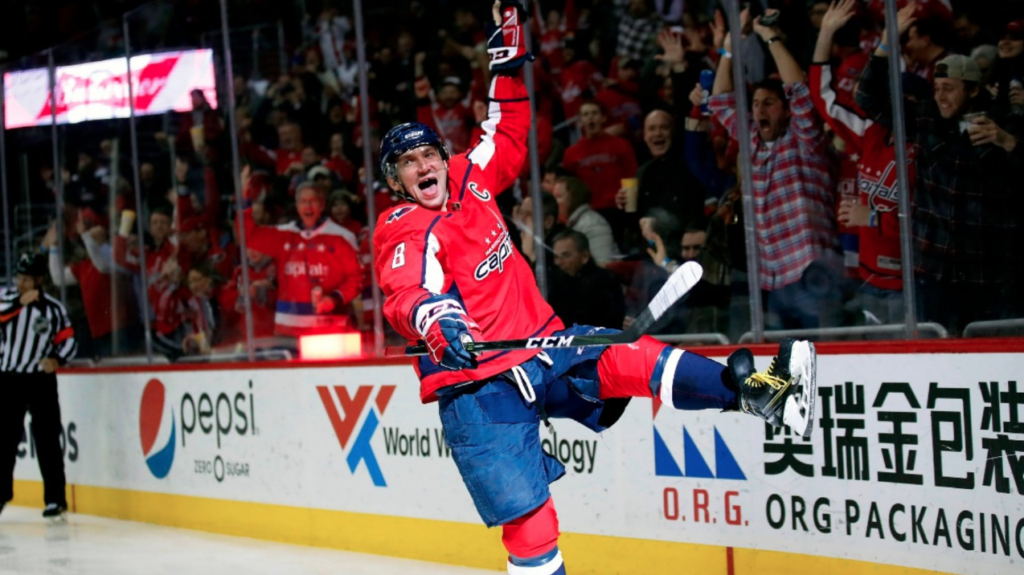 Alexander The Great Scores One For the Record Books
12 Mar, 2018
 Alex Ovechkin scored his 600th NHL goal for the Washington Capitals in a 3-2 overtime win against the Winnipeg Jets at Capital One Arena on Monday.
Ovechkin scored twice against the Jets to become the 20th NHL player to reach the milestone. He gave the Capitals a 1-0 lead with a power-play goal at 4:35 of the first, then scored No. 600 on the rebound of his own shot at 3:53 of the second to make it 2-1.
"It's special," Ovechkin said. "Of course, you want to do it more and more. It's 600. Now, you have to score another one to make 601."
Evgeny Kuznetsov scored on a breakaway with 49 seconds left in overtime, and Philipp Grubauer made 26 saves for Washington (39-23-7), which won its second game in a row and moved one point ahead of the Pittsburgh Penguins for first place in the Metropolitan Division.
Ovechkin has a League-leading 42 goals, one more than Jets forward Patrik Laine, who scored at 5:02 of the third period to tie the game 2-2 and extend his goal streak to six games (10 goals) and his point streak to 12 (16 goals, six assists).
"When you look at those numbers, you don't even think it's 599, 600," Kuznetsov said. "But then when you understand … that's a lot of goals. I can't score 20 in a year. This is 600. That's huge. That's a special talent for sure."
Nikolaj Ehlers scored, and Connor Hellebuyck made 40 saves for Winnipeg, which has lost two in a row (0-1-1) following a four-game winning streak. Hellebuyck kept it 2-2 with a pad save on John Carlson at 15:59 of the third period and a save on T.J. Oshie on the rebound at 16:01.
The Jets (41-18-10) trail the Nashville Predators by six points for first place in the Central Division and lead the Minnesota Wild by seven for second.
"Every point is earned," Hellebuyck said. "I liked the way we battled, I liked the way we stayed in it. Obviously, we can learn from this. We didn't get the two points and that's what we need and that's what we want right now."
Ovechkin is the fourth-fastest player to 600 NHL goals (990 games), behind Wayne Gretzky (718), Mario Lemieux (719) and Brett Hull (900).
He is eight from his eighth 50-goal season with 13 games remaining. Only Gretzky and Mike Bossy have more (nine).
"Six-hundred goals is incredible, especially at his age," Jets forward Blake Wheeler said. "It wasn't something we focused on, but I'm sure every guy probably acknowledged sometime on the ice … It's a pretty rare accomplishment, especially nowadays."
After Ovechkin gave the Capitals the lead with his 599th NHL goal, Ehlers tied it 1-1 with an unassisted goal at 5:33 of the first period.
"Obviously when you score big numbers, OK, it's over, you have to move forward," Ovechkin said. "Of course, right now I'm going to enjoy the time, go home and relax and just enjoy it. But tomorrow it's a new day. It's back to work."
NHL.com
Image NBCSWashington twitter
Mentioned In This Post:
About the author