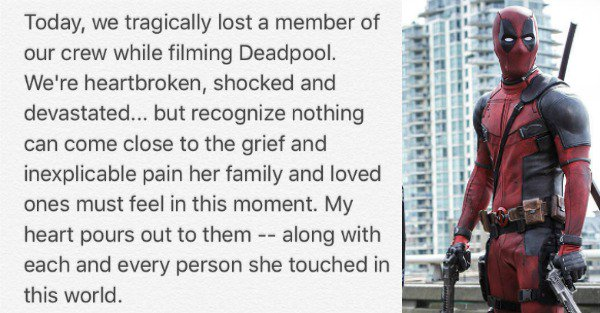 Death on the Set of Deadpool 2
14 Aug, 2017
Deadpool 2″ star Ryan Reynolds is mourning the death of a motorcycle stunt driver killed during production Monday.
Reynolds released a statement on Twitter a few hours after the accident near the waterfront in downtown Vancouver.
"Today, we tragically lost a member of our crew while filming Deadpool," the actor wrote. "We're heartbroken, shocked and devastated … but recognize nothing can compare to the grief and inexplicable pain her family and loved ones must feel in this moment."
Reynolds, a native of Vancouver playing the Marvel Comics superhero Deadpool in the 20th Century Fox movie, said his heart "pours out to them – along with each and every person she touched in this world."
The motorcycle crash happened near the Shaw Tower office building, where a crumpled motorcycle was seen lying on its side and a window was smashed.
The name of the stunt woman was not immediately released.
Police said WorkSafeBC, the British Columbia provincial workplace safety agency, and the coroner's service were investigating. Trish Knight Chernecki of WorkSafe BC said some investigators are looking at any possible occupational health and safety issues while others examine the cause of the crash and prevention in the future.
The last stunt death in British Columbia was in 1996, when a person jumped from a helicopter and a parachute failed to open, she said.
AP
Image Enews twitter
Mentioned In This Post:
About the author