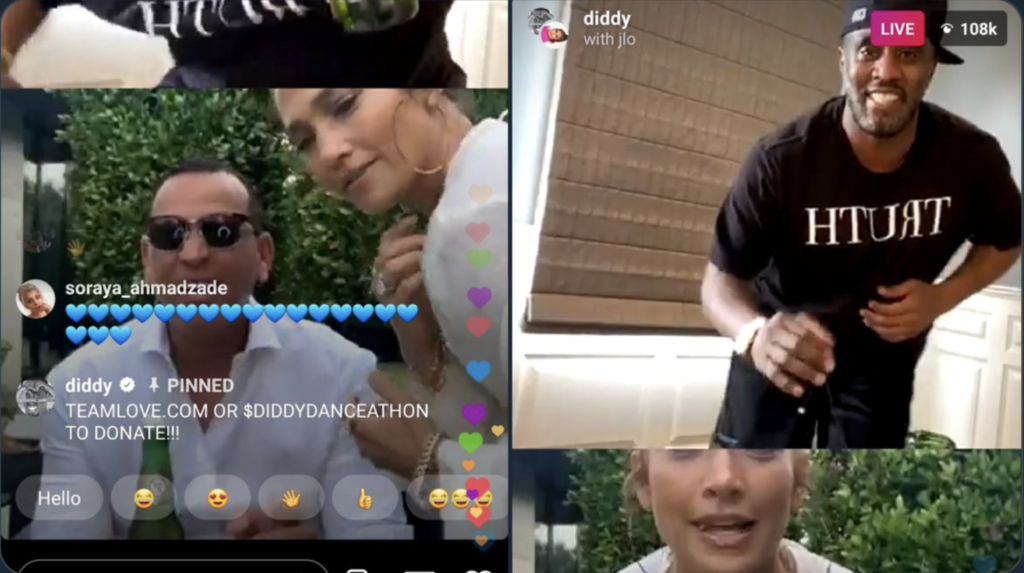 I'm loving JLO AND DIDDY 15 YEARS LATER ❤️❤️❤️ pic.twitter.com/lrCSLQvDSP

— April 12, 2020
Diddy's Dance-A-Thon Raises $4M For Frontline Workers
13 Apr, 2020
Diddy asked everyone to put on their dancing shoes at home to help raise money for healthcare employees in underserved communities, and a number of superstars — including Jennifer Lopez — joined the effort.
Diddy held the "world's biggest dance-a-thon" Sunday afternoon (April 12) on Instagram Live, encouraging followers to make donations to a COVID-19 relief fund at teamlove.com in support of frontline workers.
Among the many guests joining the first half of his live stream on Easter Sunday were Lopez, DJ Khaled and Kelly Rowland.
"Did I teach you that?" J. Lo called out to her ex as she and Diddy danced in sync, virtually. She was joined by Alex Rodriguez, outing him as Diddy's "biggest fan from the Bad Boy era."
"You and Mase like are his heroes, okay?" Lopez teased. "It's like every party we do, anything we do, it's like 'Put on Puffy and Mase.'"
DJ Khaled took a moment to remind viewers to stay home in an effort to flatten the curve: "Us staying at home, that means we love our mothers and fathers, that means we love our healthcare workers, that means we love our babies, our kids," he said.
Diddy's nine-hour Team Love Dance-A-Thon was designed to raise money for healthcare workers through Direct Relief amid COVID-19. Appearances were made by LeBron James, Jennifer Lopez, Lizzo, Snoop Dogg, DJ Khaled and more. Diddy and company raised a whooping $3.7 million along with a $1 million donation made by CIROC.
Mentioned In This Post:
About the author