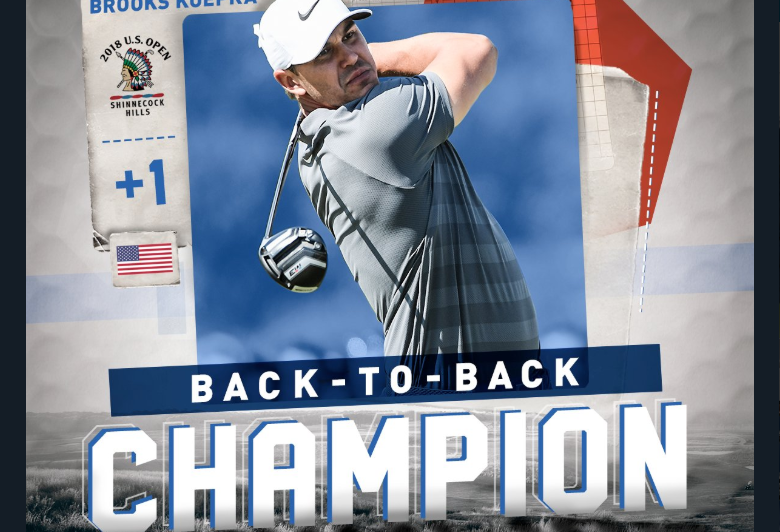 If One Is Good, Two Is Better
17 Jun, 2018
Brooks Koepka has a game for the U.S. Open no matter the course, no matter the test, no matter the circumstances.
He never lost hope when he began his title defense with a 75 and was 7-over par midway through the second round. He didn't lose his mind in the most punishing third round of a U.S. Open in nearly two decades.
And with a cool head and a hot putter, he didn't give anyone a chance down the stretch Sunday at Shinnecock Hills.
Koepka pulled away from a four-way tie for the lead with three birdies in five holes, held off Tommy Fleetwood and his record-tying 63 and closed with a 2-under 68 for a one-shot victory to become the first repeat U.S. Open champion in 29 years.
"I don't want to say I didn't think I could do it," Koepka said. "But I knew that it was going to be that much more difficult. And to finally do it, it's much more gratifying the second time. I can really appreciate how hard it is to win a major."
Koepka won with birdies on spacious Erin Hills last year. The signature moment from this U.S. Open was a trio of putts to escape trouble on the back nine — two for par, one for bogey.
"I enjoy being pushed to the limit," Koepka said. "Sometimes you feel like you are about to break mentally, but that's what I enjoy. I enjoy hard golf courses. I enjoy playing about the toughest in golf you are ever going to play."
Shinnecock Hills was every bit of that, particularly Saturday when conditions were so severe that the last 45 players to tee off shot over par. The USGA conceded the course was over the top and pledged to add water to slow it down. Fleetwood raced into U.S. Open history with a 63 on Sunday, without making birdie on the two par 5s and missing an 8-foot birdie putt on the final hole.
That cost him more than the record. It cost him a chance for a playoff.
Koepka took a two-shot lead with a wedge to 3½ feet for birdie on the par-5 16th, allowing him a safe bogey on the final hole to finish at 1-over 281. It was the first time since 2013 at Merion that no one broke par, and it was 13 shots more than his winning score at Erin Hills.
Curtis Strange, the last player to go back-to-back in this major in 1988 and 1989, watched the entire final round as the Fox Sports reporter on the ground, and they shared a brief hug off the 18th green.
"Hell of a job," Strange said to him.
Fleetwood was one shot behind when he finished, and Koepka still had 11 holes to play as Shinnecock Hills began to get crisp under another sunny sky.
With a putting performance and calm demeanor reminiscent of Retief Goosen when he won the previous U.S. Open at Shinnecock Hills, in 2004, the 28-year-old Koepka began the back nine with three pivotal putts — one for birdie, one for bogey, one for par.
The biggest might have been his bogey on the par-3 11th.
Koepka pulled a pitching wedge to the left, down the slope and into thick grass. He chopped that up the slope with so much speed that it raced across the green and into the bunker. He blasted that out to 8 feet and made the putt to keep his lead at one shot.
"I think that was like making a birdie, maybe even making an eagle," he said. "Because it could have been a big momentum shift there, and we could have been playing tennis just going back and forth. To make bogey there was pretty incredible, and I think kind of the reason why we won."
He wasn't through. He hacked out of the hay over the green at No. 12, pitched beautifully to 7 feet and made the par. Two holes later, after another drive into grass so thick he wasn't sure he could get it out, Koepka rolled in an 8-footer for another par save.
Fleetwood played with Koepka in the final group last year at Erin Hills. He finished his round as Koepka was finishing up the par-3 seventh.
"The best players in the world are up there trying to win a U.S. Open, and watching them down the stretch, you've got nothing but respect for how well Brooks did, just to hole the putts at the right time," Fleetwood said. "He kept it together, and he's a world player. He's one of the best players in the world. It wasn't great for me, but it was great as a golfer to watch how he did it."
Koepka moved to a career-best No. 4 in the world with his fifth victory, this one coming two months after he returned following torn tendons in his left wrist that kept him out the first part of the season, including the Masters.
ESPN
Image GolfonCBS twitter
Mentioned In This Post:
About the author