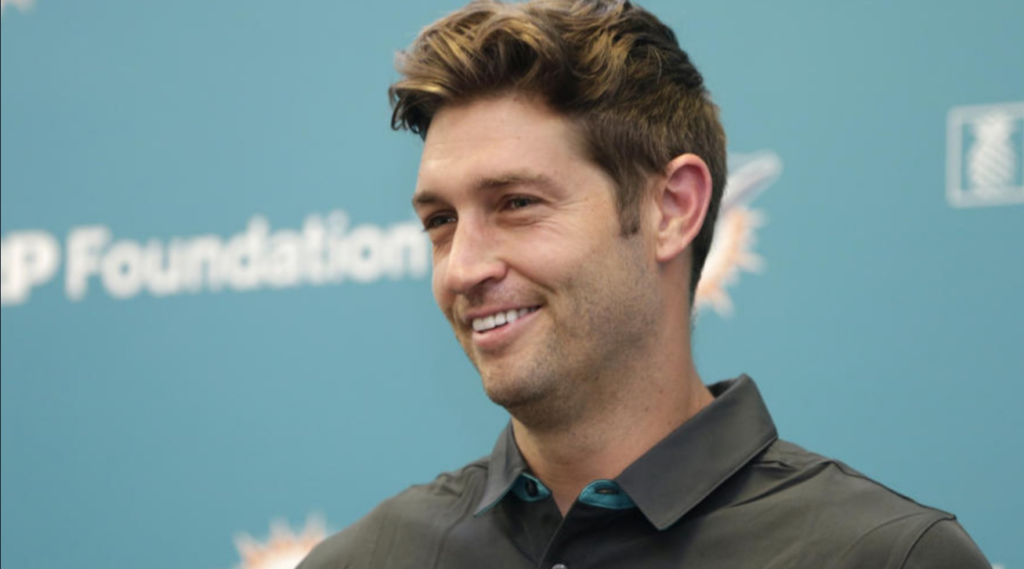 It's Good To Be Jay Cutler!
07 Aug, 2017
New Miami Dolphins quarterback Jay Cutler won't play in the team's exhibition opener Thursday, but look for him to be starting soon enough.
"He didn't come out of retirement to stand on the sideline," coach Adam Gase said.
Cutler missed Monday's practice because it took place as he landed in South Florida to sign a $10 million, one-year contract. The 34-year-old Cutler decided to delay the start of his network TV career for the chance to replace Ryan Tannehill and be reunited with Gase, his former offensive coordinator with the Chicago Bears.
"A situation like this doesn't come along very often," said Cutler, wearing a polo shirt bearing the Dolphins logo. "I know Adam very well; I know the system. And you're talking about a playoff team with a lot of really, really good players and a lot of potential."
Cutler is expected to leapfrog longtime Dolphins backup Matt Moore for the starting job while Tannehill remains out with a left knee injury that likely will sideline him for the entire season.
Gase reached out to Cutler shortly after Tannehill was hurt Thursday and said the former Bear needed no persuading to launch a comeback. But Cutler likened the conversations with Gase to college recruiting, saying the decision to return was difficult.
He parted with the Bears in March after eight seasons, and was then hired by Fox as an analyst to work in its No. 2 NFL broadcast booth.
"The last four months I've been in a different mindset, getting ready for the Fox deal," Cutler said. "I was pretty good with where I was in my life; I was around the kids a lot and felt pretty content. So I went back and forth on this. My wife talked me into it more than anybody else. … I think she got tired of me being around the house."
In 2015, Cutler had a career-best quarterback rating while with Gase, who then joined the Dolphins. What will Cutler's learning curve be with the offensive scheme?
"I'm pretty sure he's already got it," Gase said. "He's good."
AP
Image Zesty_dolphis twitter
Mentioned In This Post:
About the author