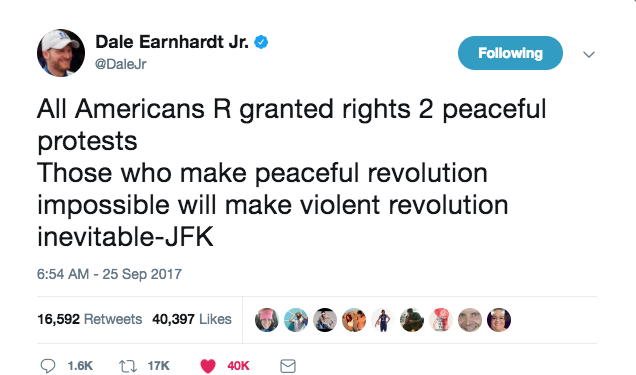 Junior Doesn't Agree With NASCAR Owners On Protests
25 Sep, 2017
Several NASCAR team owners said Sunday they would not condone racers protesting during the national anthem, amid protests by sports players at football and baseball games.
There were no protests reported during "The Star-Spangled Banner" at the Monster Energy NASCAR Cup Series in New Hampshire, according to The Associated Press.
Former NASCAR champion Richard Petty told the AP that any member of his team would be fired if they chose to protest the national anthem. Petty now owns Richard Petty Motorsports.
"Anybody that don't stand up for the anthem oughta be out of the country. Period. What got 'em where they're at? The United States," Petty said in comments reported by the AP.
Richard Childress, a former drive who owns Richard Childress Racing, said any protests from his team members would "get you a ride on a Greyhound bus."
"Anybody that works for me should respect the country we live in. So many people gave their lives for it. This is America," Childress reportedly said.
The comments from the NASCAR owners come as NFL players took part in protests at games across the country after Trump slammed players who take a knee, rather than stand, during the national anthem.
"Wouldn't you love to see one of these NFL owners, when somebody disrespects our flag, to say, 'Get that son of a bitch off the field right now. He is fired,' " Trump said during a Friday rally.
TheHill.com
Image Dale Earnhardt Jr Twitter
Mentioned In This Post:
About the author