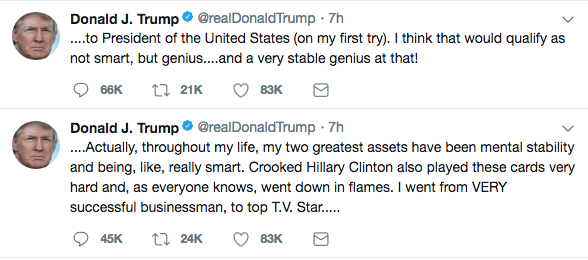 Ladies and Gentlemen, The President of The United States
06 Jan, 2018
President Donald Trump, coming off a week of heightened scrutiny over his mental health, sought to put the topic to rest on Saturday by declaring himself extraordinarily intelligent and undeniably right in the head.
By personally inserting himself into the debate, however, Trump did little to quiet what has become a consuming question in Washington: Is Trump's mind sound enough to govern?
The series of three tweets came early Saturday from the frozen woods of Maryland, where Trump is huddling with Republican lawmakers at Camp David, apparently in response to allegations contained in a damaging new book about Trump's first year as president.
"Only because I went to the best colleges, the best college, I had a situation where I was a very excellent student, came out, made billions and billions of dollars, became one of the top businesspeople, went to television for 10 years and was a tremendous success, as you probably have heard, ran for president one time and won," he said, before disparaging the triggering book's author, Michael Wolff, as a fraud and liar.
Flanked by Vice President Mike Pence and House Majority Leader Kevin McCarthy — both stone-faced — as well as a bemused-looking Republican Whip Steve Scalise, Trump shrugged off the descriptions of himself in the book as the work of his fired chief strategist Steve Bannon.
CNN
Image Trump Twitter
Mentioned In This Post:
About the author