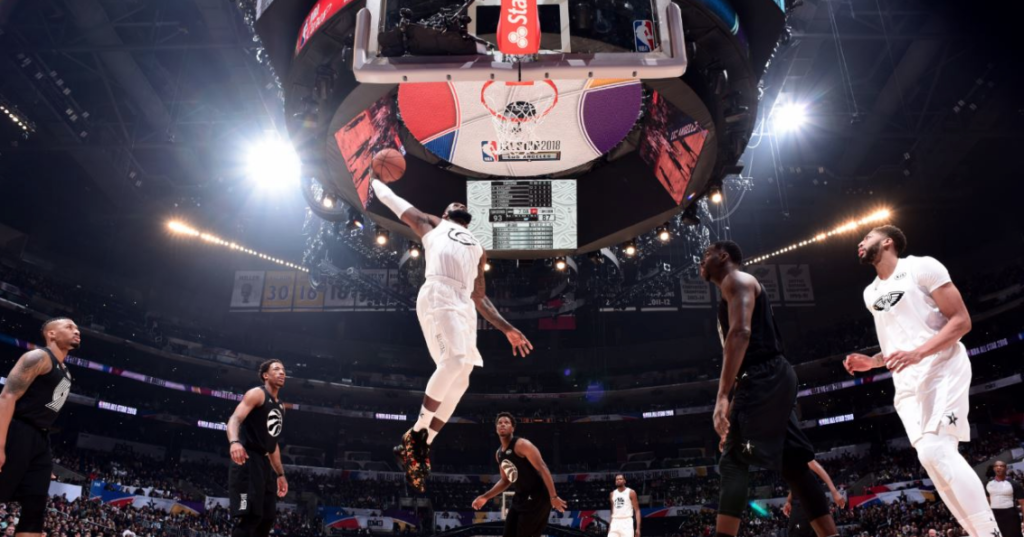 New All-Star Game, Same King
19 Feb, 2018
LeBron James and Kevin Durant swarmed all over Stephen Curry in the final seconds, preventing the NBA's best shooter from finding even a patch of open air to launch a tying 3-pointer.
Defense? In an All-Star Game?
That was just one of the many exciting surprises created by a big change to the league's midseason showcase. After James and Curry got to draft their own teams, this exhibition really seemed to matter to basketball's best.
And LeBron picked a winner.
James scored 29 points and hit the go-ahead layup with 34.5 seconds to play, winning his third All-Star Game MVP award while his team rallied to win an uncommonly entertaining edition of the event, beating Team Stephen 148-145 Sunday night.
For the first time in 67 All-Star games, the league abandoned the traditional East-West format used since 1951, instead allowing the two captains to pick their sides. That twist turned a sometimes staid event into the world's richest pickup game, and the intrigue was reflected on the Staples Center court, where a real basketball game broke out.
"I think the format was great," said James, who added 10 rebounds and eight assists in front of LA fans salivating at the still-remote possibility of the Lakers landing the superstar as a free agent this summer.
"The great thing about our commissioner (Adam Silver), he's absolutely OK with trying something new, to change the format, and it definitely worked out for everybody," James added. "It worked out not only for the players, not only for the league, but for our fans, for everybody. It was a great weekend, and we capped it off the right way."
Both teams played real defense for long stretches and contested many shots, with LeBron's group even picking up full-court late in the first half.
And after an entertaining dunk contest won by Donovan Mitchell and a record-setting effort by Devin Booker in the 3-Point Shootout, the All-Star weekend ended with a recent novelty for the main event: a thrilling finish.
"The game was so good," said a grinning Durant, who scored 19 points in his ninth All-Star Game. "It was so competitive. It was the best one I've been a part of."
Team LeBron rallied from an 11-point deficit with six minutes to play, finishing the game on a 25-11 run. James tied it at 144-144 on a step-back 3-pointer with 1:31 to play.
LA native DeMar DeRozan hit one free throw to put Team Steph back ahead, but LeBron claimed the lead with his layup after some sharp passing by his teammates. DeRozan then made a turnover on an attempted pass to Giannis Antetokounmpo, and Russell Westbrook broke out for a layup with 10.7 seconds left.
Team Steph had one last chance, but even the usually unguardable Curry couldn't elude James and Durant, who forced him to give up the ball to DeRozan, who couldn't score over Durant's arm in his face.
"That was great defense by myself," said a grinning Durant, who scored 19 points in his ninth All-Star Game. "I'm patting myself on the back."
Curry finished with 11 points on 4-for-14 shooting.
"Two tall giants out there not letting me shoot," Curry said with a laugh when describing the last play. "Tried to make a play, and it just didn't work out."
The All-Stars' shooting percentages and final scores were way down from recent seasons, reflecting the effort on the floor. The relaxed All-Star vibe was still at Staples, however: Curry chowed down on a box of popcorn on the bench during the third quarter, and the stars made time and room for plenty of good-looking dunks and alley-oops.
"They put on a show, but they gave the crowd something to root for rather than just wilding with dunks and lobs," said Paul George, who scored 16 points for Team LeBron.
Each member of the winning team made a cool $100,000, a distinct raise from previous seasons in another attempt to make things more interesting.
"It was better," said Team Steph's Klay Thompson, who scored all 15 of his points on 3-pointers in his fourth All-Star Game. "At the end, it was 100 percent. Throughout the game, it was probably 70, but guys were competitive and they really wanted to win that game."
NBA.com
Image ESPNStatsInfo twitter
Mentioned In This Post:
About the author