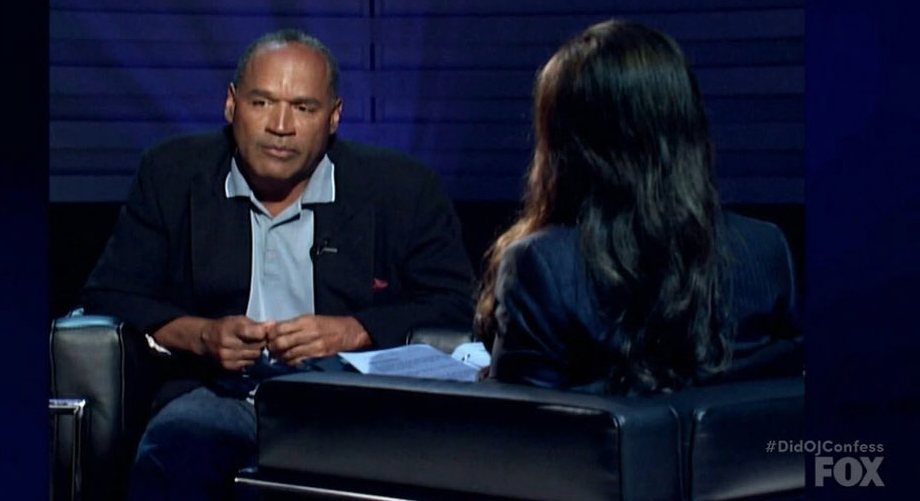 Oh MY LORD OJ!!!
12 Mar, 2018
O.J. Simpson said that on the night his ex-wife and a friend of hers were brutally murdered, he was at the scene, "grabbed the knife" and, the next thing he knew, he was standing in "all kinds of … blood and stuff."
Of course, as Simpson repeatedly claimed in a 2006 interview that aired for the first time on Sunday, his account was entirely "hypothetical." His comments were made as part of a promotional effort for a book, "If I Did it," but Fox shelved the interview after an outcry before airing it on TV 12 years later as "O.J. Simpson: The Lost Confession?"
Simpson referred to a mysterious companion of his named "Charlie" as having been a catalyst for many of the events that night in 1994, when Nicole Brown Simpson and Ron Goldman were found dead of multiple stab wounds. The following year, Simpson was acquitted of murder charges in a trial that gripped the nation and formed the bases of a recent documentary and miniseries.
In the interview, which took place a year before Simpson was arrested for robbing sports memorabilia dealers in Las Vegas — for which he served nine years in prison before being released in October 2017 — he also frequently used the first person. Simpson told the host of the 2006 event, Judith Regan, that he went with "Charlie" to the Brentwood, Calif., house where the murders were committed, and that after encountering Goldman, "I started to have words with him."
Simpson told Regan that Brown came outside, and after she fell and hurt herself, Goldman "kind of got into a karate thing." Simpson said he remembered that he grabbed the knife from Charlie, but that he had no memory of what happened before all the "blood and stuff."
Simpson then broke into laughter while telling Regan, "I hate to say this, but this is hypothetical." He subsequently said, "I don't think any two people could have been murdered the way they were without everything being covered in blood."
Elsewhere in the interview, Simpson provided his take on the 911 call Nicole Brown Simpson made in 1993, in which he could be heard yelling in the background as she sounded very distressed. In the call, which was used as evidence in his murder trial, she told police that he had "broken into" her house and was "ranting and raving outside in the front yard."
Simpson claimed that he was simply acting out of concern for his kids. "I went to her house and I read her the riot act," he said. "I did what any father would do, and yet people listened to that tape and made me this horrible person."
"I think he confessed to murder," Christopher Darden, one of the prosecutors in Simpson's murder trial, said of the footage that aired Sunday. Darden was part of a panel Fox convened for the TV special, one hosted by Soledad O'Brien and also featuring Regan.
"He may try to describe it as a hypothetical, but of course, it becomes 'I' — 'I did this,' 'I felt this,' 'I saw this,'" Darden said. "This notion of 'Charlie' — Charlie is O.J. This is no hypothetical; this is reality."
Simpson said to Regan that he had been to Nicole Brown Simpson's gravesite and "cursed" at her, telling her, "Look at these kids, look at Sydney with no mother."
He added, "No matter how I write this, hypothetical or not, I'm aware that people are going to believe what they want to believe. And I'm beyond trying to make anybody believe anything."
Washington Post
Image Fox Screen shot
Mentioned In This Post:
About the author