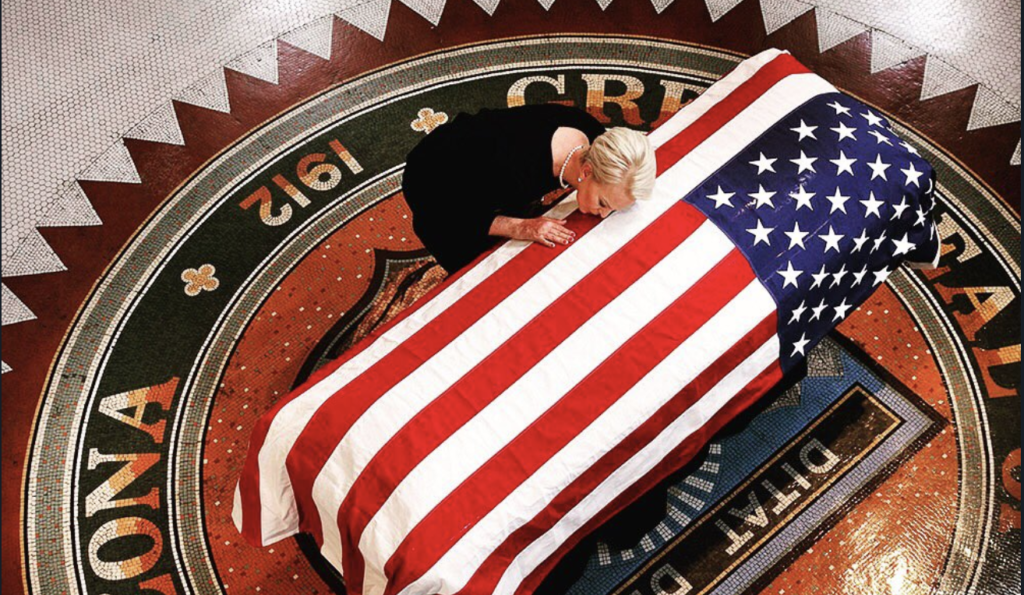 Rest Well Senator McCain
31 Aug, 2018
An astounding array of the nation's political, military, diplomatic and cultural leaders paid tribute Friday to the late Sen. John McCain – "a drum major for courage, truth and justice" – as he lay in state at the U.S. Capitol Rotunda.
McCain's flag-draped casket was carried up the marble steps of the Capitol by members of the U.S. armed forces as the skies erupted in a sudden downpour. Inside, tears flowed from mourners as it was placed on the simple pine catafalque hastily constructed in 1865 to hold the body of Abraham Lincoln.
At that moment, the 81-year-old senator became only the 31st person to lie in state over 166 years. Senators who served with him for decades stood at attention, hands on hearts; Sen. Jeff Flake, his Arizona colleague, fought back tears.
Vice President Mike Pence – standing in for the president with whom McCain frequently feuded, Donald Trump – hailed the senator as a man of iron will who never backed down from a fight.
"The president asked me to be here, on behalf of a grateful nation, to pay a debt of honor and respect to a man who served his country throughout his life," Pence said.
A former member of Congress, Pence recalled traveling the world with McCain, who later became chairman of the Senate Armed Services Committee. "I never traveled with a colleague who was better to our enlisted or harder on our generals," he said.
Senate Majority Leader Mitch McConnell recalled the "cocky, handsome naval aviator" who went on to become became "a generational leader in the United States Senate, where our nation airs our great debates."
"He would fight tooth and nail for his vision of the common good," McConnell said. "Depending on the issue, you knew John would be either your staunchest ally or your most stubborn opponent."
House Speaker Paul Ryan recalled McCain's "distinct brand of candor," when he discovered the former Navy pilot "really does talk like a sailor."
But if he were to bring his own children or grandchildren to visit McCain's final resting place at the U.S. Naval Academy in Annapolis, where he will be buried Sunday, Ryan said he would tell them: "This is one of the bravest souls our nation has ever produced."
Throughout the brief ceremony, McCain's widow Cindy, his children, grandchildren and his 106-year-old mother, Roberta, said stalwart facing his casket. Meghan McCain, his daughter, held her grandmother's hand.
In a show of bipartisanship sought by McCain, who was deeply involved in the memorial planning, Senate Democratic leader Chuck Schumer participated in the presentation of the official Senate wreath. House Minority Leader Nancy Pelosi joined Ryan in presenting the House arrangement.
Many top administration officials attended, including White House Chief of Staff John Kelly and several members of the Cabinet. Conspicuously missing: Trump, who was not invited.
The list of speakers will be expanded Saturday, when the two presidents who blocked McCain from reaching the Oval Office, George W. Bush and Barack Obama, honor McCain at Washington National Cathedral. Other speakers there will include former Secretary of State Henry Kissinger, former senator Joe Lieberman and Meghan McCain, the senator's daughter.
A sense of history was palpable even before McCain's remains arrived inside the Capitol. Sen. Patrick Leahy, the longest-serving senator who arrived during the Ford administration, placed his hand on the black-clothed catafalque.
Outside the Capitol, visitors began arriving at 7:20 a.m. for the privilege of filing past McCain's casket hours later. First in line was Kris Wiebold, who came from Berkeley Springs, West Virginia, who awoke at 3:30 a.m. to make his first trip to the Capitol.
"I needed to be here to thank him for my freedom," Wiebold said. "I hope that his letter that he left the nation is read throughout school systems. Everybody should take a week or two weeks to learn about John McCain's life."
That farewell letter included a line Ryan quoted: "Our identities and sense of worth are not circumscribed but enlarged by serving good causes bigger than ourselves."
The speaker also quoted Ernest Hemingway, who wrote: "The world breaks everyone, and afterward many are strong at the broken places."
"No one was stronger at the broken places than John McCain," Ryan said, alluding to the former prisoner of war's 5½ years in captivity during the Vietnam War. "The brokenness was his ballast."
The benediction was delivered by Rear Admiral Barry Black, the Senate chaplain who referred to McCain as a drum major: "May the life of this American patriot inspire us to see you more clearly, to love you more dearly, and to follow you more nearly each day."
Here are further details of the weekend's events honoring the late senator.
On Saturday at 8:30 a.m., a motorcade will carry the senator's body from the U.S. Capitol to Washington National Cathedral.
On the way, the procession will pause at the Vietnam Veterans Memorial, where Cindy McCain will lay a ceremonial wreath honoring those who died during the Vietnam War. The public is welcome to line the procession route along Constitution Avenue to pay respects to the senator.
Several visitors to the memorial, where a candlelight vigil will be held Friday evening, said they had MCCain in mind. "Many just felt he was a man of character and courage," said Bob Healy, a ranger with the National Park Service.
An invitation-only national memorial service celebrating the senator's life will begin at 10 a.m. at Washington National Cathedral.
McCain's daughter Meghan will give a tribute and daughter Sidney will give a reading. McCain's son, Jimmy, will read the poem "The Requiem."
McCain's close friend, Sen. Lindsey Graham, R-S.C., will read from the gospels.
Bush was McCain's rival in the 2000 presidential race. The senator withdrew after losing a series of primaries to Bush on Super Tuesday. McCain later supported his former adversary.
As the GOP nominee in 2008, McCain lost to Obama. In McCain's concession speech at the Arizona Biltmore, he graciously spoke of the significance of Obama's win as the first African-American to hold the presidency.
On Sunday, McCain will be buried in the cemetery at the U.S. Naval Academy in Annapolis, Maryland. Services will be private.
USA Today
Image kennerly twitter
Mentioned In This Post:
About the author