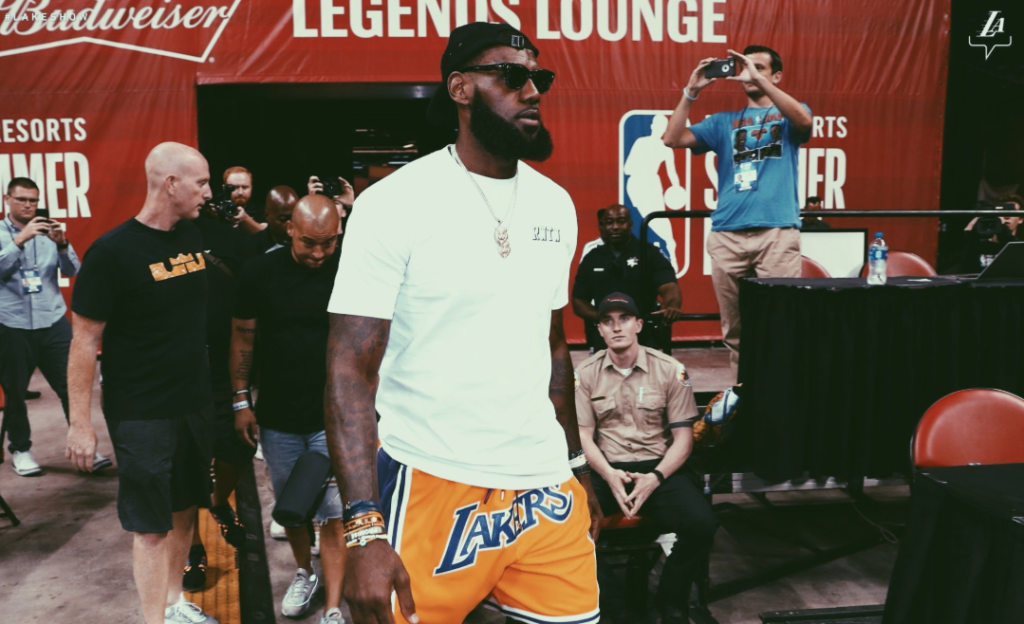 The King Showed Up At Summer League To See What He's Got
15 Jul, 2018
LeBron James, the newest face of the Los Angeles Lakers, stopped by the Thomas & Mack Center on Sunday to watch his new teammates earn a spot in the semifinals of the NBA Summer League after beating the Detroit Pistons in Las Vegas.
James officially signed with L.A. on July 9. This appearance is his first at NBA Summer League since joining the Lakers this summer. After the game he chatted with former coach Tyronn Lue.
James is coming off one of his greatest NBA seasons, playing in all 82 regular-season games for the Cavaliers while finishing third in the NBA with 27.5 points per game and hitting career highs with 8.6 rebounds and 9.1 assists. He then carried Cleveland to its fourth consecutive NBA Finals, where the Cavs were swept by Golden State.
The Lakers already have begun assembling a revamped team around James by acquiring Rajon Rondo, JaVale McGee and Lance Stephenson in free agency while retaining guard Kentavious Caldwell-Pope. Los Angeles also assembled a reasonably talented young core before James' arrival with Brandon Ingram, Lonzo Ball, Kyle Kuzma and Josh Hart.
NBA.com
Image BallersHype twitter
Mentioned In This Post:
About the author