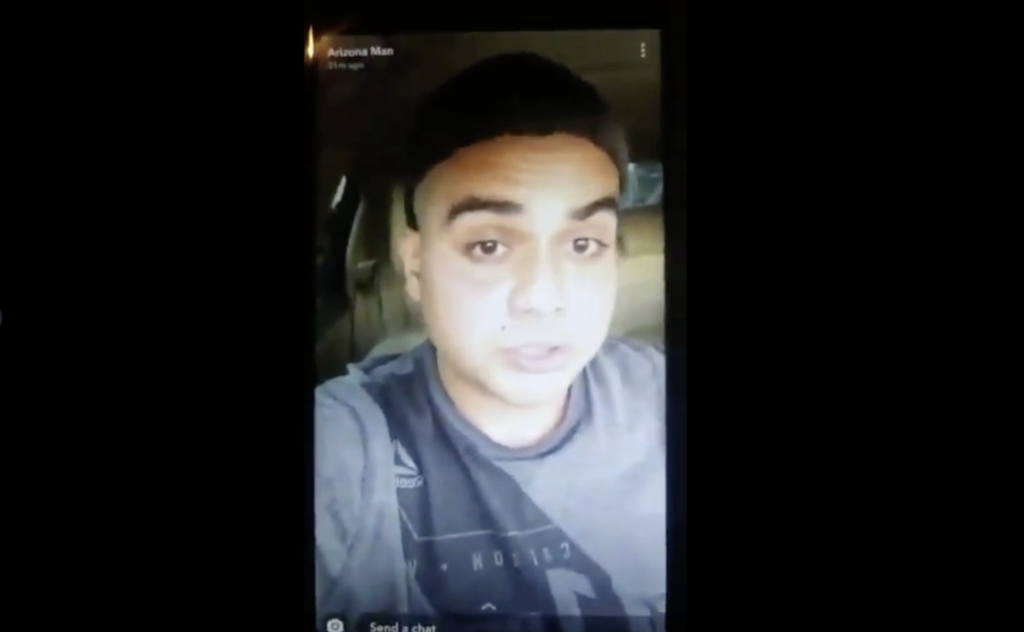 This Coward Streams Shooting On Social Media
21 May, 2020
On one of the first nights that Arizonans were able to leave their homes to enjoy the shops and restaurants that had been shuttered for weeks by COVID-19, one of the state's signature dining districts was struck by a foe from pre-pandemic times: an active shooter.
Police said three people were shot Wednesday night at the Westgate Entertainment District in Glendale, a usually brightly lit outdoor center filled with restaurants and bars near the stadium where the NFL's Arizona Cardinals play and the arena that hosts the NHL's Arizona Coyotes. One person was in critical condition; the other two people were treated for lesser injuries.
A shooter was taken into custody, police said.
Emergency dispatchers first received reports of a shooting at the Glendale entertainment district at about 7:25 p.m., according to Glendale police spokesperson Officer Tiffany Ngalula. The shooting had already stopped when officers arrived at the scene just five minutes later. 
The shooter, whom Ngalula did not identify, was found in the Westgate area shortly after. Ngalula said officers "challenged" him and were able to safely take the man into custody without using lethal force. It's not clear if he surrendered to police.
A video circulated on social media on Wednesday night appearing to show a man claiming to be the shooter. One of the videos showed him firing a semiautomatic rifle.
Ngalula couldn't provide any information about a possible motive. She said police were aware of the video and asked anyone who has it to share it with officials to aid with their investigation. She couldn't confirm if the man in the video was actually the shooter. 
State Sen. Martin Quezada tweeted that he witnessed a shooter in the area armed with a gun.
"I just witnessed an armed terrorist with an AR-15 shoot up Westgate," he wrote. "There are multiple victims."
Eliana Rivera, a sales associate at the pottery painting store As You Wish, said she and a co-worker were preparing to close for the night when they heard gunshots. Rivera said she initially wasn't sure whether the sounds were fireworks or from a truck's exhaust backfiring.
After hearing more shots, Rivera said she saw people running away from the sounds.
Rivera and her co-worker locked the store's doors and turned off all of the lights before hiding in the back of the store. She called 911 and then her mom to tell her she was OK. 
Rivera didn't see the shooter herself, but saw videos showing the alleged shooter firing a weapon near a hallway that was across from their store. Other witness videos showed guests running away from the sound of nearby gunshots.
"It's just unreal," Rivera said. "You see it on the news. It happens and you never really think that you would be put in that position. You just think, 'What are the chances that that will happen?' — and it did."
Rivera said police officers eventually entered and searched the store about 8 p.m. before telling them to relock the front door and keep hiding until further notice.
Though the state was under a stay-at-home order until recently and a number of restrictions on dining in restaurants are still in place, there were still plenty of diners and shoppers in the area enjoying an evening that offered a relatively temperate reprieve after a recent heat wave.
Those who were still inside the shopping area when police arrived were told to shelter in place and that they could be there for hours on Wednesday night as police go from store to store to ensure there are no additional victims. 
The shooting locked down the nearby neighborhood, and residents in the area received reverse 911 calls urging them to stay inside.
Numerous law enforcement agencies, including the FBI, were at the scene well into Wednesday night. Ngalula said they would likely be there for hours until the scene was cleared. They were also searching at least one other location.
Power outages were reported in the area, but it's unclear if they were related to the shooting. Salt River Project spokeswoman Kathleen Mascareñas said the outages started at about 7:30 p.m., but the utility has been unable to enter the area and determine a cause because of the police activity.
Westgate opened in 2006 just ahead of the Arizona Cardinals' first season playing in Glendale. The complex is next to State Farm Stadium and adjacent to Gila River Arena, a NHL hockey and concert venue.
Glendale Mayor Jerry Weiers said he doesn't want this event to define his city.
"Westgate's a very thriving center. We've got great people, and we certainly don't want to be judged by the action of one," he said, adding that supporting one another is crucial after an event like Wednesday's shooting. "It's critically important, absolutely. You can't judge 4 million people by the actions of one. We have a fantastic city, a growing city and a thriving city."
AZCentral.com
Image SecurityWatchk twitter
Mentioned In This Post:
About the author