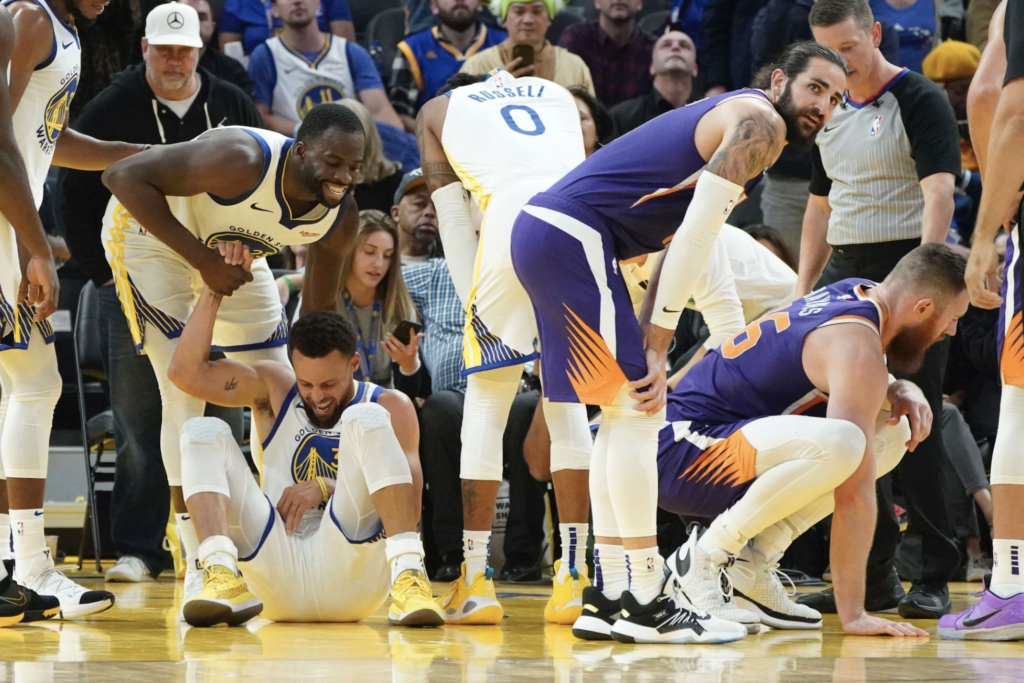 Throw The Whole Season Away
31 Oct, 2019
An already nightmarish evening took an even worse turn for the Warriors on Wednesday night.
After trailing the Phoenix Suns at home by more than 30 before halftime, Golden State saw Stephen Curry exit the game with an apparent left wrist injury. Shortly thereafter came word that Curry had suffered a broken left hand.
Per multiple reports Thursday afternoon, Curry has had a CT scan on the injury and specialists are seeking to determine whether or not it will require surgery. A decision on that may come as soon as Friday.
As of early Thursday morning, Warriors GM Bob Myers was unsure exactly how long Curry would be out, per Kerith Burke of NBC Sports Bay Area.

The two-time Kia MVP initially came up grimacing after being sandwiched between two Suns defenders on a drive to the rim.
Curry drove to his left defended by Kelly Oubre Jr. and with big man Aron Baynes standing solidly in the paint. Curry leapt with the ball then came down head first landing hard and awkwardly on his hands to brace himself from the court, with Baynes crashing onto Curry's left hand. Curry grimaced in pain grabbing at his fingers then walked to the locker room with 8:31 left in the third quarter.
Curry did not attempt his two free throws, and instead went immediately to the locker room for further evaluation. The Warriors guard finished the game with nine points, six assists and five rebounds in 21 minutes of action.
"Aron Baynes came up after the game and just wanted to know how Steph was doing," Warriors coach Steve Kerr said. "You could tell he felt really bad. It's just a random basketball play, so stuff happens."
Curry had started the game hot, scoring seven points in the first three minutes. Then Phoenix ripped off an incredible 30-1 run, further emphasizing the defensive struggles with which Golden State has started the season. The Suns wound up winning 121-110, Golden State's third double-digit loss in less than a week.
Steve Kerr on Stephen Curry's injury: "It's tough.
Now the Warriors face an even crueler road than when the season began. With Kevin Durant now in Brooklyn and Klay Thompson recovering from a torn ACL, Golden State had already lost half its usual All-Star cast. The burden fell on Curry and Draymond Green to lead a team of newcomers, rookies and former G League standouts through a brutal Western Conference.
The Warriors trailed 72-46 at halftime Wednesday after falling behind 70-37 at the break in Oklahoma City on Sunday.
If Curry does indeed miss extended time, that burden now shifts to Green and D'Angelo Russell to carry a franchise that seemed all but unbeatable until this year's rash of injuries.
"Of course it hurts knowing that Steph Curry's down," said rookie Eric Paschall, who made his first career start and scored a team-high 20 points. "… That's a very, very valuable piece of our team but I feel like we're going to stay positive."
NBA.com
Image SportsLine Twitter

Mentioned In This Post:
About the author