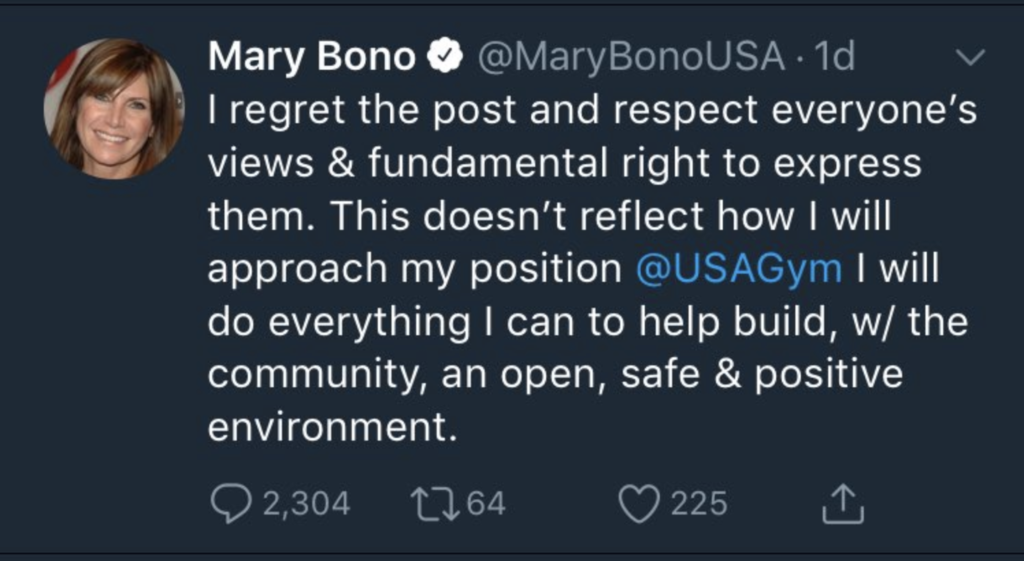 USA Gymnastics Just Can't Get It Right
16 Oct, 2018
A day after U.S.A. Gymnastics appointed an interim leader to help move the sport beyond months of tumult and scandal, the organization again found itself embroiled in controversy on Saturday — and facing criticism from one of the sport's biggest stars.
The new leader, Mary Bono, came under fire for an anti-Nike tweet that she posted in September, days after the company announced an ad campaign featuring Colin Kaepernick, the former N.F.L. quarterback who knelt during the national anthem to protest racial inequality and police killings of black people.
As critics pledged to boycott Nike products, Ms. Bono shared a photo of herself using a marker to black out the Nike logo on her golf cleats.
Simone Biles, who won four gold medals and a bronze at the 2016 Olympics and who will compete for the United States in this year's world championships, resurfaced the tweet with a critical post of her own on Saturday.
"*mouth drop*," wrote Ms. Biles, who is sponsored by Nike. "don't worry, it's not like we needed a smarter usa gymnastics president or any sponsors or anything."
By Saturday night, Ms. Bono had apologized and deleted the tweet.
"I deeply regret posting the tweet because I respect everyone's views and their fundamental right to express them," she said in a statement released by U.S.A. Gymnastics. "This in no way reflects how I will approach my position at U.S.A. Gymnastics. I will do everything I can to help change the culture and to work with the entire community to build an open, safe and positive environment."
A spokeswoman for U.S.A. Gymnastics did not answer questions on Saturday night about how the organization had vetted Ms. Bono or whether it agreed with her anti-Nike sentiments.
U.S.A. Gymnastics has been ridden with turmoil and missteps as it works to recover from a widespread sexual abuse scandal involving Lawrence G. Nassar, the former national team doctor who molested numerous young women. (Ms. Biles said this year that she had been sexually abused by Dr. Nassar.)
The organization overhauled its board of directors in the fallout from the scandal and forced out a past president, Steve Penny, who is under scrutiny for mismanaging hundreds of abuse cases.
But the drama continued this summer, when the federation hired — and then asked for the resignation of — Mary Lee Tracy, a longtime coach who initially defended Dr. Nassar. Days later, the organization's most recent president, Kerry Perry, was forced to resign after less than a year on the job.
U.S.A. Gymnastics named Ms. Bono, a former Republican congresswoman who represented a California district, as its interim president and chief executive in an announcement on Friday.
She is a former gymnast who worked to protect young people from the opioid abuse epidemic while in Congress, the announcement said.
"Mary is known to be an outstanding communicator who can coalesce people with differing views and perspectives," Karen Golz, chairwoman of the organization's board of directors, said in the news release. "Mary is passionate about the sport, and having her as our interim president and C.E.O. will move the organization forward."
But almost immediately, Ms. Bono's hiring created an uproar and calls for her resignation.
The tweet reignited the debate about Mr. Kaepernick and the N.F.L. protests, which have divided the country between those who view them as disrespectful toward the American flag and the military, and those who see opposition to the protests as racially insensitive.
But it could also put U.S.A. Gymnastics in a difficult position. The organization, which lost support from major companies amid the abuse scandal, has no apparel sponsor.
Rich Calhoun, a father of four children who participate in U.S.A. Gymnastics and compete in gyms in Massachusetts, said he was frustrated that the organization's latest hiring decision spiraled into controversy.
"After everything that's happened, this is what they do?" he said.
He said Ms. Bono's tweet seemed to mock those who speak up for people who have been victimized. "That is the exact opposite of what U.S.A. Gymnastics should do right now," he said.
NY Times
Image Mary Bono twitter
Mentioned In This Post:
About the author