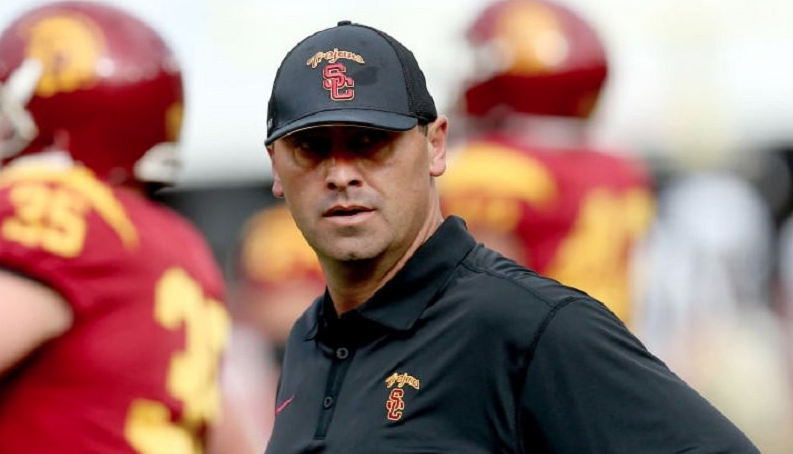 USC Wins $30M Lawsuit Against Former Coach
09 Jul, 2018
An arbitrator has ruled in favor of USC in a wrongful termination lawsuit brought by former Trojans head coach Steve Sarkisian.
In the suit, Sarkisian was reportedly seeking $30 million, asserting that USC had not allowed him to seek treatment for alcoholism, which is recognized as a disability under the law.
The arbitrator ruled that USC is not responsible for any further compensation and denied the suit. USC athletic director Lynn Swann released a statement on Monday, acknowledging the arbitrator's decision, which ruled against Sarkisian on all counts.
"We are pleased that the arbitration has reached its rightful conclusion and we wish Steve Sarkisian well," Swann said in the statement.
Sarkisian was fired as USC's head coach in October 2015 after the school became aware of several incidents in which he appeared in public or coached the team under the influence of alcohol. Sarkisian was, at one point, suspected by his staff to be under the influence during USC's 42-14 win over Arizona State, according to a source and reported to ESPN in 2015.
The decision officially severs USC from Sarkisian, who is now the offensive coordinator for the Atlanta Falcons.
"I am disappointed in the decision, but we will respect it and move on," Sarkisian said in a statement. "Much gratitude to everyone who has shown their support and stood by me. The last two years have been trying, but I am now in a great place, healthy, happy and loving my job with the Falcons and have the support of my family and friends, and that's where my focus is and will remain."
ESPN
Image d1sportsnet twitter
Mentioned In This Post:
About the author