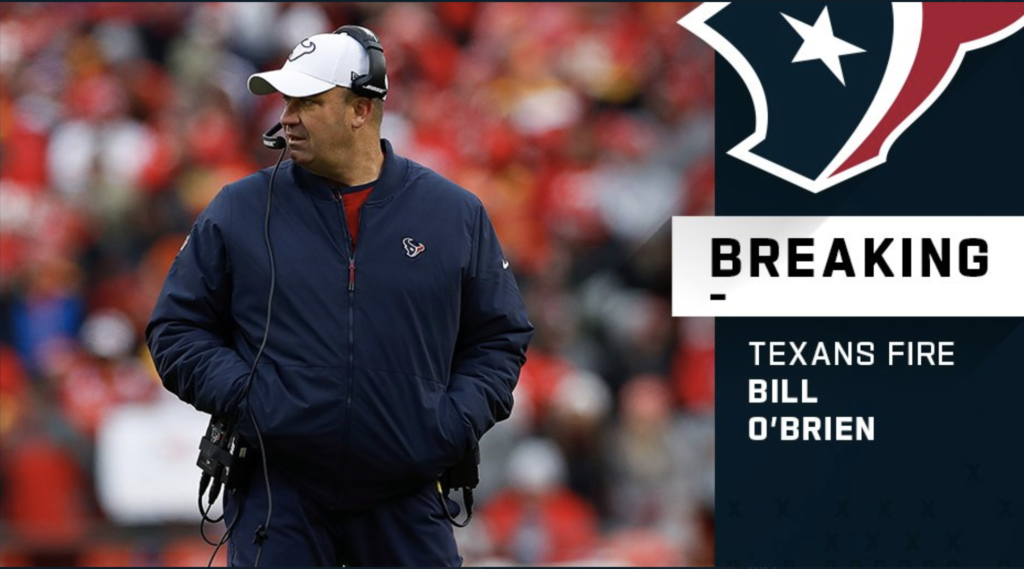 Trade Hopkins, Lose Your Job
05 Oct, 2020
Bill O'Brien rose from head coach to football czar in Houston, but he couldn't survive an 0-4 start to the 2020 season.
The Houston Texans fired coach and general manager Bill O'Brien on Monday after more than six seasons with the organization and four AFC South division titles.
Associate head coach Romeo Crennel will take over as interim head coach. The 73-year-old Crennel has previously served as head coach in Cleveland and Kansas City.
O'Brien and Jack Easterby, Houston's executive vice president of football operations, did not see eye-to-eye recently, leading to O'Brien's firing, NFL Network Insider Ian Rapoport reported. Easterby had previously arrived to evaluate the organization and fired former general manager Brian Gaine, preceding O'Brien's eventual promotion to GM.
O'Brien's Texans had an eventful offseason, in which the coach and GM controversially traded away Houston's star receiver, DeAndre Hopkins, in an effort to gain needed draft capital and a reclamation project in running back David Johnson. It hasn't gone well, with Houston currently ranking last in the NFL in rushing yards per game and failing to score more than 23 points in any of its first four games.
The Texans fought their way through an unenviable first two weeks that included meetings with the reigning Super Bowl champion Kansas City Chiefs and the Baltimore Ravens, who finished 14-2 in 2019. Houston went on to lose a close contest against Pittsburgh in Week 3 before falling flat in Week 4 against Minnesota. O'Brien spent Monday admitting he needs to coach better before being relieved of his duties in the afternoon.
The combined effort proved to be the final straw for Texans chairman and CEO Cal McNair, who terminated O'Brien just one quarter through the season and with the club off to its worst start since 2008. O'Brien departs Houston with a career regular-season record of 52-48 and just one losing season (2017) in his tenure.
"On behalf of my family and our entire organization, I want to sincerely thank Bill O'Brien and his family for their impact on our franchise," McNair said in a statement. "Bill's leadership moved our organization forward as he guided us to four AFC South division championships, 52 wins and multiple playoff appearances during his tenure.
"Bill proved himself as a coach and leader in this league. I spoke with him earlier today and told him we are moving in a different direction. Romeo Crennel will serve as our interim head coach for the remainder of the 2020 season. We have a talented team and I have no doubt our players and staff will rally to make Texans fans proud as we aim to win championships and do great things for the city of Houston."
O'Brien's career in Houston was a tale filled with multiple acts of varying circumstances that always seemed to produce the same outcome. Houston found itself playing on Wild Card Weekend on a near-annual basis, but always lacked the authenticity of a legitimate contender, left to only flirt with a deep postseason run before inevitably falling short.
"We did a lot of good things here but we didn't do enough," O'Brien told reporters. "We didn't bring a Super Bowl to Houston which I believe eventually someone will. I think this is a championship team that needs to get things turned around right now but I believe in this team."
The coach jumped from Penn State to the NFL in 2014, replacing Gary Kubiak with a franchise that had found itself in a long-running search for a legitimate franchise quarterback. He coached the Texans to a 9-7 mark in his first season while three different quarterbacks (Ryan Fitzpatrick, Case Keenum and Ryan Mallett) started games for him, leaning heavily on the talents of running back Arian Foster and a strong defense while just barely missing the postseason.
His next two campaigns saw his Texans again finish 9-7 in somewhat similar fashion, exiting the postseason in a shutout wild-card loss to Kansas City in 2015 and scoring his first playoff victory in a 2016 wild-card meeting with Oakland before bowing out in the Divisional Round.
It wasn't until 2017 that O'Brien's Texans found their man behind center, drafting Clemson's Deshaun Watson in the first round one season after trudging through the failed Brock Osweiler experiment. In the same 2017 season, the Texans' defense fell off a cliff following the loss of defensive end J.J. Watt to injury before returning to form under Crennel in 2018.
That season proved to be O'Brien's best, as the Texans rode stellar play from Watson and a revitalized defense to an 11-5 finish. An upset loss at home to the Indianapolis Colts on Wild Card Weekend extinguished Houston's flame, but 2019 provided Houston with the thrill it had been so desperately waiting for since the start of the Watson era, as the quarterback's heroics powered the Texans to a wild-card win over Buffalo and helped delay postseason pain for one more week.
The game that followed might best summarize O'Brien's downfall in Houston. Leading 24-7 over the heavily favored Chiefs midway through the second quarter at Arrowhead Stadium, O'Brien decided to call a fake punt on fourth down in a move that signaled desperation despite owning a 17-point lead. The fake failed, and the Chiefs rode the momentum shift to an incredible reversal of fortune, outscoring Houston 44-7 in the final two and a half quarters and sending the Texans home into an offseason full of questions.
The scrutiny only intensified further when O'Brien dealt away Hopkins, his best weapon for Watson, and received back the underperforming Johnson and a handful of draft picks. Seen as a fleecing on the part of the Cardinals, O'Brien attempted to justify the move by pointing to the financial ramifications of keeping Hopkins, and the need to find a lead running back.
In the Hopkins deal, O'Brien addressed a need for draft capital which came as a result of a 2019 trade in which he shipped out multiple picks for tackle Laremy Tunsil (whom O'Brien later signed to an extension). It's fair to wonder if the addition of personnel duties ended up bogging O'Brien down.
"I think that's probably something I really don't wanna get into," O'Brien said Monday evening. "I think, at the end of the day, I tried to do always, every day what was best for the organization, what was asked of me, I really did. Did we make mistakes? Obviously, we made mistakes. I mean, I don't think anybody's perfect but we worked very hard to field a competitive team. We had a competitive team for years here. I think this is a competitive team but obviously you got to win games to be really, really considered that way and we hadn't gotten it done."
Instead of uncovering the next Foster, O'Brien's Texans instead found themselves staring up at the rest of the league in the rushing department. O'Brien now finds himself walking out the door of the team he once controlled.
NFL.com
Image NFL twitter
Mentioned In This Post:
About the author