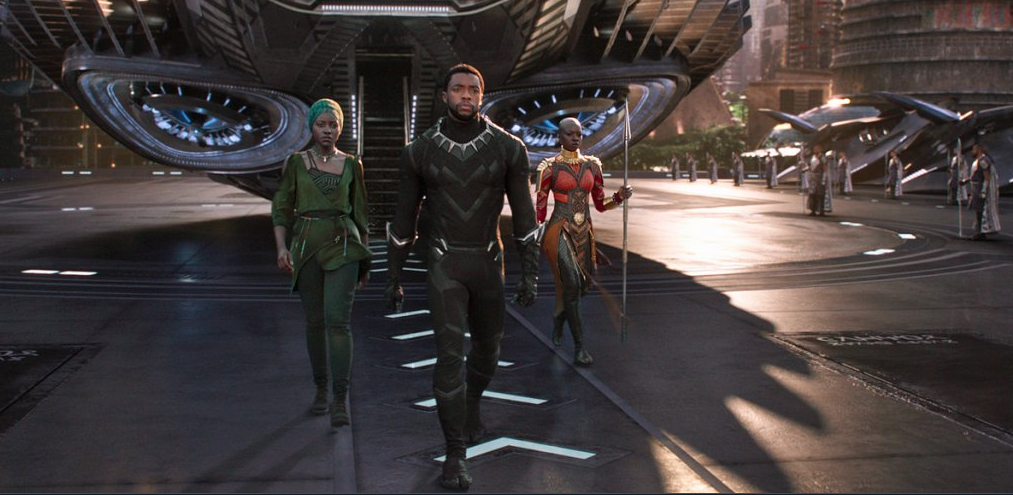 Black Panther Destroys Box Office Records
19 Feb, 2018
In a defining moment for Hollywood, Disney and Marvel Studios' Black Panther exploded at the Presidents Day box office, bounding to a record-shattering estimate of $192 million for the three-day weekend and a projected $218 million-plus for the four-day holiday frame.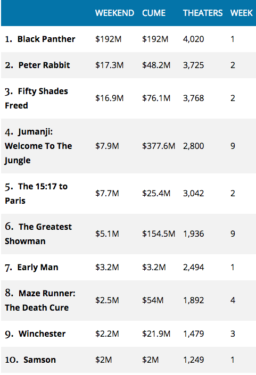 The Ryan Coogler-directed movie — unprecedented in being a big-budget studio tentpole featuring a virtually all-black cast — secured the fifth-biggest domestic opening of all time after blasting past all expectations. It's also the best launch of any superhero film behind fellow Marvel title The Avengers (2012), which earned $207.4 million in its first three days, not accounting for inflation.
The weekend isn't over, however, and Black Panther could climb even higher. Many rival studios show a four-day total of $222 million to $225 million, as well as a higher three-day total in the $195 million range.
Other records broken include that of the biggest opening for an African-American director, the top-scoring superhero film on Rotten Tomatoes (97 percent) and the biggest February bow, supplanting previous champ Deadpool, which took in $152.2 million over the four-day Presidents Day weekend in 2016.
Playing in 4,020 theaters, Black Panther was fueled by a diverse audience. According to comScore, 37 percent of ticket buyers were African-American. Caucasians made up the next largest group (35 percent), followed by Hispanics (18 percent). That sort of demographic breakdown is unheard of for a marquee superhero tentpole. On average, African-Americans make up about 15 percent of the audience for such fare. Females also turned out in force to see Black Panther, heralded for its portrayal of strong women, making up 45 percent of all ticket buyers (that share is usually 35 percent-40 percent on a superhero movie's opening weekend).
"There are seven billion people on this planet and they come from all walks of life. Audiences deserve to see themselves reflected on the big screen. Beyond being the right thing to do, it makes for richer storytelling," says Disney distribution chief Dave Hollis.
Adds Imax Entertainment CEO Greg Foster, "Representation matters. Get Out, Wonder Woman, Coco and now Black Panther show Hollywood that authenticity and inclusiveness wins."
Black Panther, which cost $200 million to make before marketing, was a bold move on the part of Disney and Marvel's Kevin Feige.
In the film, Chadwick Boseman stars as T'Challa/Black Panther alongside Lupita Nyong'o, Michael B. Jordan, Daniel Kaluuya, Letitia Wright, Winston Duke, Angela Bassett, Forest Whitaker and Andy Serkis. The story, described as a tale of black power and black pride in addition to its superhero themes, follows T'Challa as he is sworn in as king of Wakanda, a cloaked, technologically advanced nation in Africa that is home to the exotic metal vibranium, the source of Black Panther's powers.
Audiences bestowed Black Panther with an A+ CinemaScore (the only other Marvel title to earn the mark was Avengers).
Black Panther hits theaters almost a year after Jordan Peele's maverick horror film Get Out transformed into a box-office sensation, although that was a genre pic. And in summer 2017, filmmaker Patty Jenkins' Wonder Woman, featuring a female protagonist, became the highest-grossing live-action film from a female director.
Overseas — where American films with a black cast can face challenges — Black Panther opened in virtually every major market save for Russia (Feb. 22), Japan (March 1) and China (March 9). The movie earned a mighty $169 million for an estimated global bow of $387 million through Monday, including a hefty $52 million from Imax locations around the world.
Black Panther came in ahead of expectations overseas, but certainly not to the extent it did in North America. Still, it secured the fifteenth-biggest international opening of all time, opening No. 1 in almost every territory. South Korea led with $25.3 million, the fifth-biggest start ever for a Western title. The U.K./Ireland followed with a $24.8 million launch, the best showing of any Marvel title behind Avengers: Age of Ultron and eclipsing the entire runs of Justice League, Ant-Man and the first installments in the Captain America and Thor franchises.
In North America, the only movies that dared to open nationwide opposite Black Panther were Lionsgate and Aardman Animation's family film Early Man and Pure Flix's faith-based pic Samson. Early Man placed No. 7 with an estimated four-day gross of $4.2 million from 2,492 theaters, while Samson came in No. 11 with an estimated $2.4 million from 1,249 cinemas.
THR.com
Image ShadowandAct twitter
Mentioned In This Post:
About the author