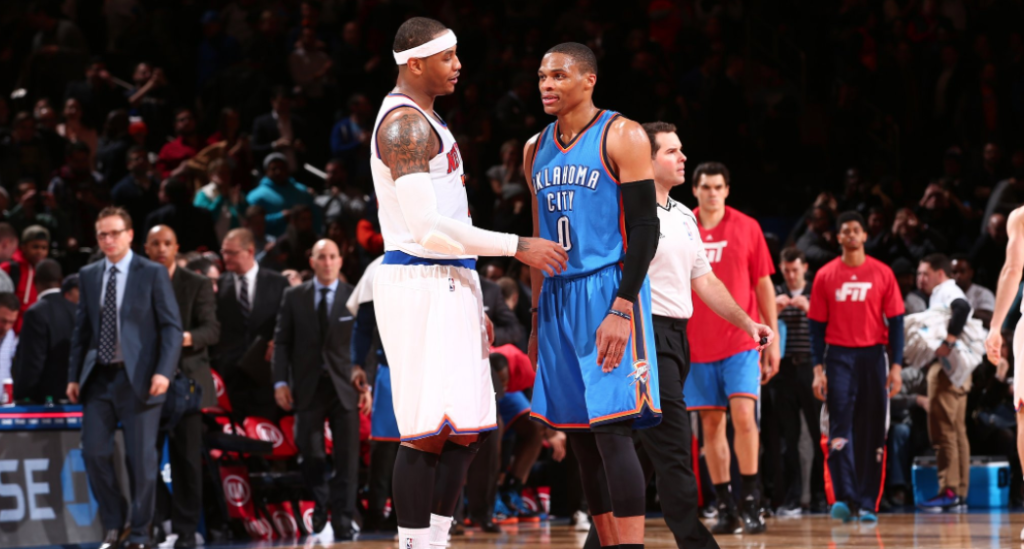 Carmelo Anthony is Heading West
23 Sep, 2017
The summer of blockbuster moves in the NBA extended right until the start of training camp with a final order of business: Carmelo Anthony to the Oklahoma City Thunder.
For the second time this offseason, the Thunder added a premier name by acquiring Anthony from the Knicks to unite with ex-Pacer Paul George and reigning MVP Russell Westbrook. The Knicks will get Enes Kanter, Doug McDermott and a 2018 second-round pick that belonged to the Bulls, according to reports from ESPN and the Vertical.
Anthony and the Knicks had conducted a stare-down for the last few months because of a fractured relationship caused by the previous New York administration led by president Phil Jackson. After Jackson was relieved of his duties two months ago, the Knicks still felt that Anthony was better off with a fresh start as the franchise began the rebuilding process.
To make the deal possible, Anthony will evidently waive his no-trade clause, a major sticking point that limited the Knicks' trade options.
This marks a monumental offseason for the Thunder and Sam Presti, their GM. OKC was rocked by the defection of Kevin Durant last summer, which left the heavy lifting to Westbrook, who delivered an epic regular season and helped the Thunder win nearly 50 games.
Presti then traded Victor Oladipo and Domantas Sabonis to the Pacers for George, in what was largely viewed as a bargain deal, although George has only one season left on his contract.
Anthony gives OKC three former Olympians and three of last season's top 23 scorers, a weapon that could make OKC a big player in the tough Western Conference.
NBA.com
Image Bleacher Report twitter
Mentioned In This Post:
About the author