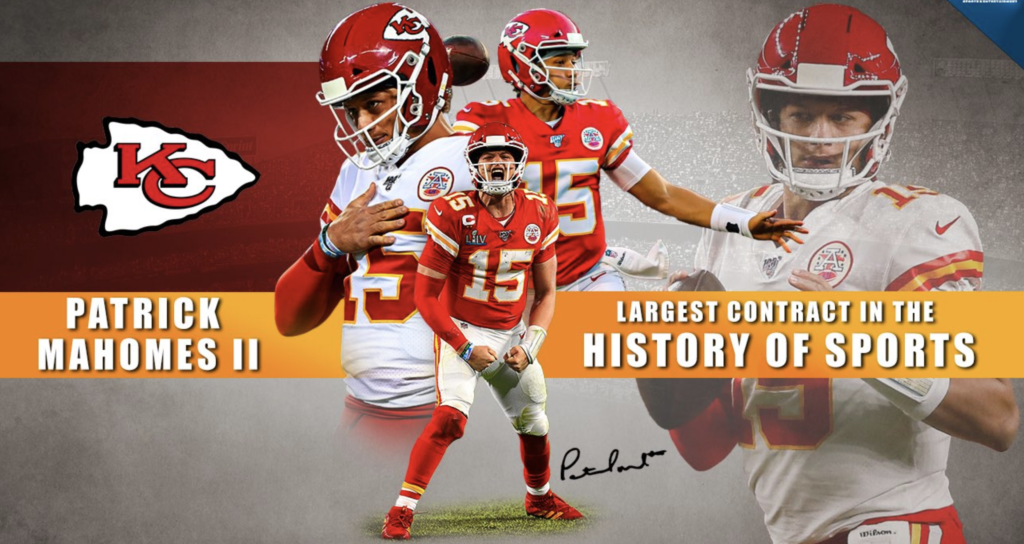 $503 MILLLION!!!!!!!!
06 Jul, 2020
Kansas City will get to watch Patrick Mahomes sling the pigskin for the next dozen seasons.
The Chiefs and the quarterback reached an agreement on a 10-year contract extension that will keep the Super Bowl Most Valuable Player in K.C. through the 2031 season, NFL Network's Michael Silver reported, per a source informed of the deal. It is worth a colossal $503 million with $477 million in guarantee mechanisms which gives Mahomes the ability to have outs if the mechanisms are not exercised, NFL Network Insider Ian Rapoport and NFL Network's Tom Pelissero reported.
It is the largest contract in sports history as Mahomes becomes the first athlete with a half-billion-dollar contract and the first NFL player to be the highest-paid athlete in the sports world.
The Chiefs later made the extension official.
The Chiefs' all-world quarterback gets $450 million "in so-called new money" over the 10-year extension, Pelissero clarified, in addition to the $28 million covered by the two remaining years on his rookie contract. Mahomes, the No. 10 pick in the 2017 NFL Draft, will get a $10 million signing bonus, then has large roster bonuses on a rolling guaranteed basis in future years, which includes a massive $49.4 million bonus due in 2026, Pelissero explained. There is also $25 million in incentives tied to winning the MVP and reaching the Super Bowl starting in the 2022 season. Upon signing, Mahomes gets just more than $63 million and just north of $103 million by March, Pelissero outlined. The contract leaves the Chiefs with a lot of short-term flexibility as nearly the whole deal is conditionally guaranteed, Pelissero said. Per Rapoport, by March, there is no trade clause in the deal.
ESPN first reported the extension news.
Mahomes tweeted out a reaction video that ended with: "And we're staying together … for a long time. We're chasing a dynasty."
As expected, the contract will make the 2018 NFL MVP the richest player in league history and the NFL world reacted in appreciation and amazement.
"I've had the privilege of coaching a lot of incredible athletes and special people in my career, and Patrick is without question on that list of players." Chiefs head coach Andy Reid said in the team statement. "The best part is he's still early in his career. He's a natural leader and always grinding, whether that's on the field, in the weight room or watching film, he wants to be the best. He's a competitor and his teammates feed off his energy. He makes us all better as an organization and we are blessed he's going to be our quarterback for years to come."
A 10-year agreement is nearly unheard of in the current era of free agency when some players are signing shorter deals to get more bites at the free-agent apple — think Kirk Cousins in Minnesota.
The deal comes before training camp, which was the desire for the Chiefs and Mahomes, according to NFL Network's James Palmer.
It is a deal largely unlike any before it.
Since 2000, Brett Favre ($100 million in 2001), Drew Bledsoe ($103M, 2001), Daunte Culpepper ($102M, 2003) and Michael Vick ($130M, 2004) have signed 10-year contracts, per NFL Research. Donovan McNabb inked a 12-year deal worth $115 million in 2002. Among current active contracts, Mahomes' 10-year extension bests Tyron Smith's eight-year deal in Dallas (14 others are tied with six-year pacts).
After famously sitting his first season, Mahomes has set the NFL on fire the past two years, earning two Pro Bowl bids, first-team All-Pro honors in 2018, the NFL MVP, the Super Bowl MVP and a Lombardi Trophy. In just two seasons as a starter, Mahomes already has made more "OH MY Gooooooodness, did he just do THAT?!?" plays that some quarterbacks make in an entire career.
Mahomes averages 302.4 passing yards per game, including playoffs, the most in NFL history, per NFL Research. The youngest player to win the Super Bowl MVP also currently enjoys the highest passer rating in NFL history at 108.9 (No. 2 on the list is Aaron Rodgers at 102.4). In 2018, Mahomes joined Peyton Manning (2013) as the only two players in NFL history to post 5,000 passing yards and 50-plus TDs in a season. Mahomes has 9,412 pass yards in 31 career regular-season starts (the most among players in first 31 starts since 1950).
The Chiefs have led the NFL with 31.2 points per game since Mahomes became the starter and also rank No. 1 in yards per play (6.5) and third-down percentage (47.4) since his promotion.
Mahomes' new deal puts a stamp on the fact that the Chiefs quarterback is the new face of the NFL along with other young signal-callers like Deshaun Watson and Lamar Jackson. Mahomes is a player who can make every throw look easy, has a rocket for an arm that makes SpaceX researchers jealous, is as intelligent as they come and is the model teammate.
Turning 25 in September, Mahomes will be 36 when his new contract ends. In today's NFL, that's considered middle-aged.
The Chiefs never shied away from the fact that they'd have to make Mahomes the highest-paid player in NFL history. The team knew what it'd take to ensure a once-in-a-generation talent like Mahomes went nowhere.
Mahomes puts butts in the seats. The Chiefs ensured he'll keep awing fans in K.C. for the next decade-plus.
Said Chiefs chairman and CEO Clark Hunt in a statement: "This is a significant moment for our franchise and for the Chiefs Kingdom."
NFL.com
Image NFLonFOX twitter
Mentioned In This Post:
About the author