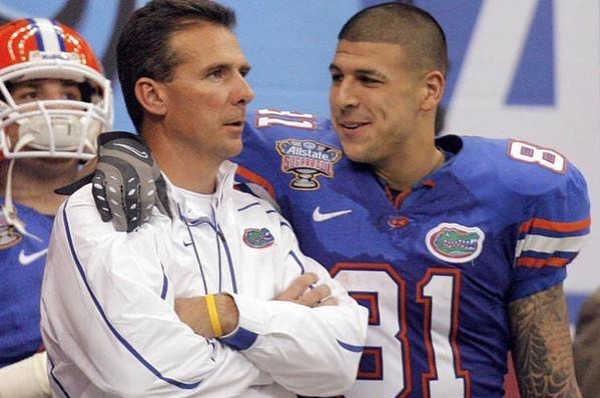 Don't Think Urban Meyer Will Survive This One
01 Aug, 2018
Ohio State head coach Urban Meyer was placed on paid administrative leave Wednesday as the school announced it is investigating Courtney Smith's claims that several people close to the coach knew of a 2015 allegation of domestic violence against her ex-husband, former Ohio State assistant football coach Zach Smith, who was fired in July.
Offensive coordinator Ryan Day will be the team's acting head coach during the investigation.
"We are focused on supporting our players and on getting to the truth as expeditiously as possible," the school said in a statement.
Courtney Smith told college football reporter Brett McMurphy her allegations in a story posted on his Facebook page earlier Wednesday.
"All the [coaches'] wives knew," Smith told McMurphy. "They all did. Every single one."
Smith told Stadium, a multi-platform sports network, that she believes that Meyer also knew at the time.
"I do believe he knew, and instead he chose to help the abuser and enable the abuser and believe whatever story Zach was telling everybody," Smith said.
Ohio State opens practice Friday.
"[Athletic director] Gene [Smith] and I agree that being on leave during this inquiry will facilitate its completion. This allows the team to conduct training camp with minimal distraction. I eagerly look forward to the resolution of this matter," Meyer said in a statement.
Shelley Meyer, Urban's wife and an instructor in Ohio State's College of Nursing, was among the coaches' wives who knew that Courtney Smith had reported a domestic violence incident in 2015, Courtney Smith said. Smith added that she was never told that Shelley Meyer had told her husband about the allegations at the time.
Smith also said that Hiram DeFries, who is the special assistant to the head coach at Ohio State and has been a confidant of Urban Meyer for years, told her in 2009 not to pursue charges against Zach Smith after an incident in Florida. Meyer was the Gators' head coach at the time; Smith was an intern on his staff.
"[DeFries] said, 'If you don't drop the charges, Zach will never coach again,'" Smith told McMurphy. "'He's never hit you before. He was drinking. He'll probably never do it again. You should think about giving him a second chance.'"
She did not press charges in 2009. Zach Smith was investigated in 2015 for suspicion of felony domestic violence after an incident that resulted in unspecified injuries and showed evidence of sustained abuse. In the Powell, Ohio, police report regarding that incident, Courtney Smith said she had been a victim of habitual domestic abuse. Cleveland.com on Wednesday identified nine reports from Powell police involving domestic disputes between the couple from 2012 to 2018.
Bradley Koffel, an attorney representing Zach Smith, told ESPN: "Zach Smith wants to be as transparent and honest as possible but it is not going to be done today through the media. It will only be after he and his ex-wife are sworn in to testify. Once he gets his chance to tell his side of events, don't be surprised when it is corroborated by every police who ever responded to Ms. Smith's calls."
The 2009 and 2015 accusations came to light last month, when Zach Smith was charged with criminal trespassing after dropping their children off at Courtney Smith's home, which led to his firing as wide receivers coach on July 23.
On July 25, Urban Meyer denied knowing that Zach Smith had been accused of domestic violence in 2015, saying at Big Ten media days that "I was never told about anything." Meyer said the decision to fire Smith was a "very tough call."
Koffel said Wednesday that Smith never informed Meyer about the criminal-trespass charge even after Koffel told Smith to do so.
"I now understand why Zach compartmentalized the info — to protect Urban," Koffel said. "You cannot impute every family argument involving an employee and his wife to the CEO of a company or the head coach of a large football program."
Courtney Smith told McMurphy that Shelley Meyer knew about the 2009 and 2015 allegations and that they often discussed Zach Smith's abuse of her, including sharing pictures.
"Shelley said she was going to have to tell Urban," Courtney Smith said. "I said: 'That's fine, you should tell Urban.' I know Shelley did everything she could."
But in the Stadium interview, Courtney Smith said that Shelley Meyer never confirmed that she told her husband about the abuse.
"She did not. She did not," Courtney Smith said of Shelley Meyer. "She would reach out to me, ask me how I'm doing, tell me she was worried, if I needed anything, she was there."
ESPN
Image Laces Out instagram
Mentioned In This Post:
About the author