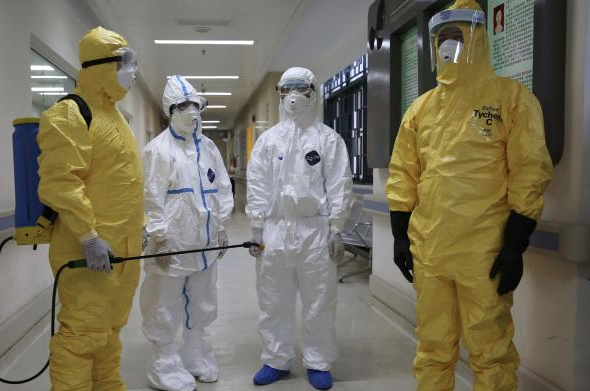 Ebola Confirmed In New York City
24 Oct, 2014
An emergency room doctor who recently returned to the city after treating Ebola patients in West Africa has tested positive for the virus, Mayor Bill de Blasio said. It's the first case in the city.
The mayor said there's no reason for residents to be alarmed by Thursday's Ebola diagnosis. He said all city officials followed "clear and strong" protocols in handling Craig Spencer, a member of Doctors Without Borders.
Spencer, 33, had been working in Guinea. He returned more than a week ago and reported Thursday coming down with a 103-degree fever and diarrhea. He was being treated in an isolation ward at Manhattan's Bellevue Hospital, a designated Ebola center.
The doctor's Harlem apartment has been cordoned off. The city's disease detectives have been tracing his contacts to identify anyone who may be at risk.
The CDC has dispatched an Ebola response team to New York, and the city's disease detectives have been tracing the doctor's contacts to identify anyone who may be at risk.
City officials say Spencer acknowledged riding the subway and taking a cab to a Brooklyn bowling alley in the past week before he started showing symptoms.
His Harlem apartment was cordoned off, and his fiancee, who was not showing symptoms, was being watched in a quarantine ward at Bellevue. The Department of Health was on site across the street from the apartment building Thursday night, giving out information to area residents.
Health officials say the chances of the average New Yorker contracting Ebola, which is spread through direct contact with the bodily fluids of an infected person, are slim. Someone can't be infected just by being near someone who's sick with Ebola. Someone isn't contagious unless he is sick. Symptoms are similar to malaria and cholera.
Mayor Bill de Blasio said proper protocols were followed every step of the way in Spencer's case and it didn't appear he had been showing symptoms for very long.
"The patient is in good shape and has gone into a great deal of detail with our personnel as to his actions the last few days so we have a lot to work with," de Blasio said earlier in the day. "We have a patient who has been very communicative and precise and who has only been back a very short time and has been quite clear about individuals he had close contact with."
According to a rough timeline provided by city officials, Spencer's symptoms developed Wednesday, prompting him to isolate himself in his apartment.
When he felt worse Thursday, he and his fiancee made a joint call to authorities to detail his symptoms and his travels. EMTs in full Ebola gear arrived and took him to Bellevue in an ambulance surrounded by police squad cars.
Spencer, 33, works at NewYork-Presbyterian/Columbia University Medical Center. He had not seen any patients or been to the hospital since his return, the hospital said in a statement, calling him a "dedicated humanitarian" who "went to an area of medical crisis to help a desperately underserved population."
AP
Image twitter
Mentioned In This Post:
About the author