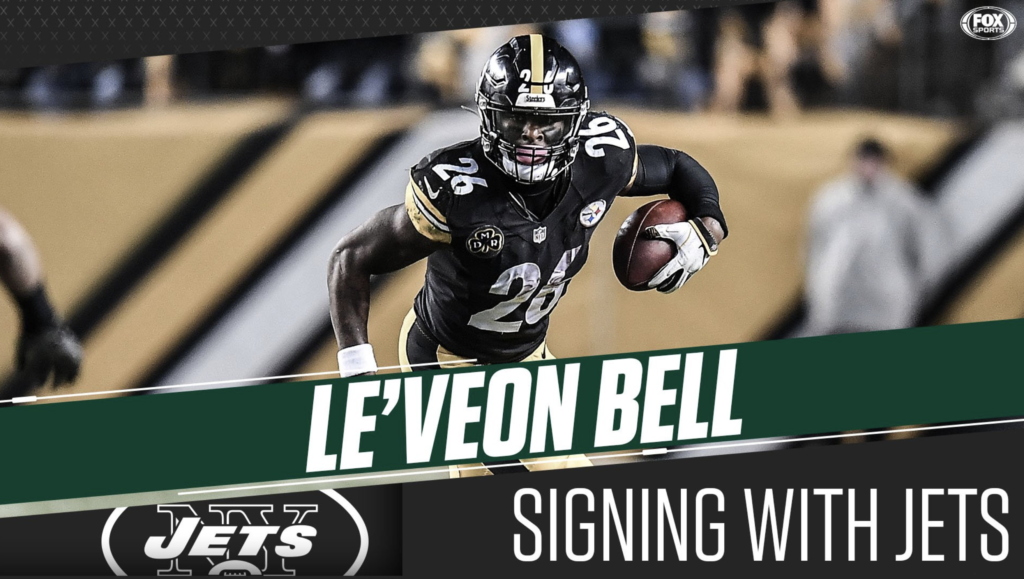 If You Are About It, Gamble on Yourself!
13 Mar, 2019
Former Pittsburgh Steelers running back Le'Veon Bell plans to sign a four-year, $52.5 million contract with the New York Jets, a league source told ESPN's Adam Schefter.
The deal includes $35 million guaranteed, with a maximum value of close to $61 million, including incentives, a source said.
Bell, who has been training in South Florida, confirmed he would be joining the Jets in an Instagram post late Tuesday night.
Bell, who shocked the NFL by sitting out the entire 2018 season on the franchise tag after failing to agree on a new contract last summer, officially became a free agent when Steelers general manager Kevin Colbert opted not to place a franchise or transition tag on him for the 2019 season.
After gaining nearly 2,000 total yards during the 2017 season, Bell opted to eschew the $14.5 million franchise tag in 2018 — forgoing about $855,000 per game — so he could preserve his long-term viability for a big contract in free agency this offseason.
Several other teams were said to be interested in Bell, including the San Francisco 49ers, who made a strong offer and were engaged in a wild tug-of-war with the Jets over the past few hours, sources told ESPN's Jeremy Fowler.
But the Jets emerged as the front-runner late Tuesday. Not wanting to bid against themselves, they held firm on their offer, a source told ESPN's Rich Cimini.
Bell, a two-time All-Pro, had used social media to engage with potential suitors, using emojis to make indirect contact with the Indianapolis Colts and Baltimore Ravens, among others. The Ravens never made him an offer, a source told Schefter.
Bell's average salary per year with the Jets, $13.25 million, would rank him second among running backs in the NFL, behind Todd Gurley's $14.37 million average.
The Jets expect Bell to instantly upgrade an offense that finished 29th in total yards and 26th in rushing yards. They also believe he will be the ideal backfield mate for quarterback Sam Darnold because of his dual-threat ability.
Bell's average of 128.9 total yards per game from 2013 to 2017 is the highest for an NFL back over the first five seasons of a career since the NFL-AFL merger in 1970. During that span, he rushed for 5,336 yards and 35 touchdowns and caught 312 passes for 2,660 yards and another seven scores.
Rocky franchise-tag negotiations over the past two years created distance between Bell and the Steelers. He missed training camp in 2017 when both sides couldn't agree on a contract, and he eventually played on a $12.12 million franchise tag — rushing for 1,291 yards and nine touchdowns, while catching 85 passes for 655 yards and two more TDs.
After the 2017 season, Bell showed his conviction by turning down a five-year, $70 million offer because of what he called a low true guarantee of $17 million, and he was able to miss games because he was unsigned and thus not bound to the team.
By sitting out the 2018 season, Bell, a three-time Pro Bowl selection, correctly bet the Steelers wouldn't place a third consecutive franchise tag on him.
ESPN
Image FoxonNFL twitter
Mentioned In This Post: @LeVeonBell
About the author