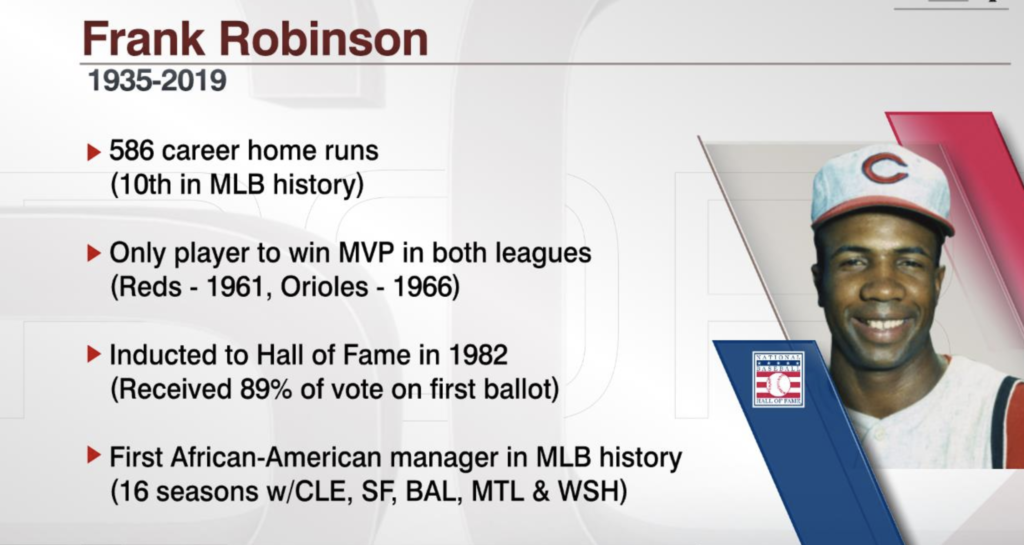 Thank You Mr. Robinson. Rest Well
07 Feb, 2019
Frank Robinson, a trailblazing figure who was Major League Baseball's first African-American manager and one of its greatest players during a career that spanned 21 seasons, died Thursday after a prolonged illness. He was 83.
Known as much for his leadership, toughness and raging competitive fire as his sheer greatness as a player — that is, crowding home plate so much that he dared pitchers to throw inside — Robinson was elected to the Baseball Hall of Fame with 89.2 percent of the vote in his first year of eligibility in 1982.
"Frank Robinson's resume in our game is without parallel, a trailblazer in every sense, whose impact spanned generations," Commissioner Rob Manfred said. "He was one of the greatest players in the history of our game, but that was just the beginning of a multifaceted baseball career.
"We are deeply saddened by this loss of our friend, colleague and legend, who worked in our game for more than 60 years. On behalf of Major League Baseball, I send my deepest condolences to Frank's wife Barbara, daughter Nichelle, their entire family and the countless fans who admired this great figure of our national pastime."
Robinson hit 586 home runs and was a 14-time All-Star and the only player to win Most Valuable Player Awards in both leagues — 1961 for the Reds in the National League, '66 for the Orioles in the American League.
"Frank Robinson was not only one of the greatest players in Orioles history, but was also one of the premier players in the history of baseball," the Angelos family, owner of the Orioles, said in a statement. "Fans will forever remember Frank for his 1966 season, in which he won the Triple Crown and was named MVP during a year that brought Baltimore its first World Series championship. His World Series MVP performance capped off one of the greatest individual seasons in baseball history. An Orioles legend and a Baseball Hall of Famer, Frank brought us so many wonderful memories, including two championships, during his time in Baltimore."
The proudest moment of Robinson's career occurred on April 8, 1975, when he walked the lineup card to home plate as player-manager of the Indians in front of 56,715 at Cleveland Stadium.

Just as Jackie Robinson's breaking of baseball's color barrier in 1947 had opened doors for Frank Robinson, Hank Aaron and Willie Mays and many others to play in the Major Leagues, it was Frank Robinson who paved the way for every minority manager who has followed.
MLB.com
Image ESPNStatsandinfo twitter
Mentioned In This Post:
About the author