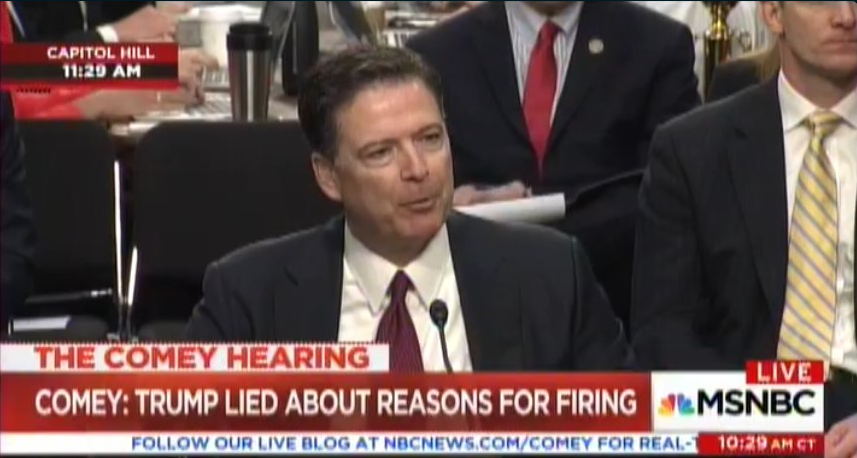 Was #ComeyDay A Bad Day For Trump?
09 Jun, 2017
Former FBI Director James Comey's blockbuster Thursday Senate hearing provided several bruising moments for President Donald Trump.
Comey, whom Trump fired in early May, said he believed he was fired "because of the Russia investigation," amplifying calls that Trump was obstructing justice. He said he took Trump's comments that the president "hoped" for the ousted FBI director to "let go" of the investigation into former national security adviser Michael Flynn "as a direction."
Comey said he kept memos on his conversations with Trump — a move he said he did not do with two prior presidents or other top Justice Department officials — because he "was honestly concerned that he might lie about the nature of our meeting."
And he said that, in firing him from the top FBI post, Trump and his administration tried to "defame" him by spreading "lies, plain and simple," after his departure, citing Trump's "shifting explanations," which he said included Trump going on TV and "saying that he actually fired me because of the Russia investigation."
Yet among all that, Republicans and supporters of the president were still able to walk away from Thursday's hearing with some optimism. Trump's allies suggested the testimony didn't provide a proverbial smoking gun, and they emerged with options to try to shift the conversation.
Comey, for one, suggested that the Flynn investigation, if dropped, most likely would not alter the course of the FBI's larger investigation into Russia's election meddling and whether the Trump campaign had a role in it. Trump's supporters also took grievance with Comey's stunning acknowledgment that he instructed a good friend — a Columbia University law professor — to leak information on his memos to the news media because he felt the investigation may have reached the point at which a special counsel needed to be appointed.
Perhaps looming largest, though, were his comments regarding former Attorney General Loretta Lynch and the investigation into Democratic presidential nominee Hillary Clinton's use of a private email server. Comey said Lynch asked him to refer to the email inquiry as a "matter" instead of an "investigation," a request he recalled "gave me a queasy feeling." It echoed language the Clinton campaign itself was using.
"That was one of the bricks in the load that led me to conclude I have to step away from the department if we're to close this case credibly," Comey said, adding that consideration of appointing a special counsel to oversee the matter was a valid suggestion but one that would have been unfair. He reiterated that the facts of the case did not warrant charges pressed against the former secretary of state.
Fox News host Eric Bolling said on "The Specialists" — making a point that many in the Trump realm highlighted in similar ways — that Comey's comments on Lynch proved the real "collusion."
"There's your collusion — not between [Trump] and the Russians, but between" President Barack Obama, Lynch, and Comey, he said.
Delivering a statement following Comey's testimony, Trump's personal attorney Marc Kasowitz ripped the former FBI director for ordering the leaking of the memos. He even suggested that Comey lied under oath, disputing the claim that Trump hinted that Comey should drop the Flynn investigation. Of course, he also noted that Comey "finally confirmed publicly" what Trump had insisted: that "the president was not under investigation as part of any probe into Russian interference."
Trump personally did not appear to believe Thursday was worth an all-out fight. Asked about the testimony, Trump "declined to comment, only smiling through pursed lips," according to a pool reporter.
"There was no knockout punch," Matt Mackowiak, a Republican strategist who is the president of the Potomac Strategy Group, told Business Insider in an email. "Trump will benefit from admission that he was not under investigation and Comey's revelation that he leaked his own memo to require a special counsel be appointed. Trump will be harmed [by] inappropriate comments about Flynn made on the Oval Office, which I do not believe rose to the level of illegality."
"Both sides fight on," he continued.
Business Insider
Image MSNBC
Mentioned In This Post:
About the author