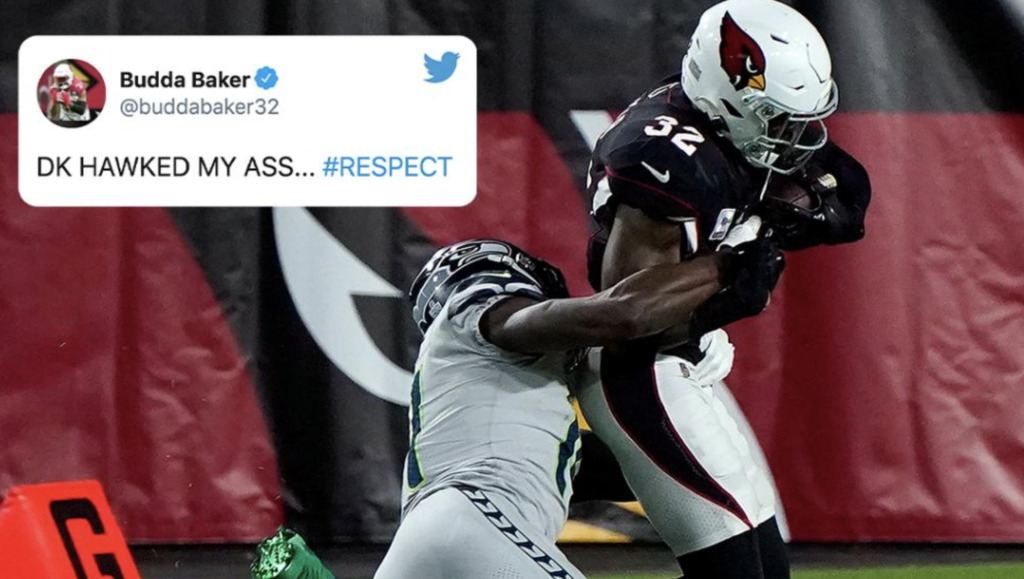 i broke down DK Metcalf running 22 miles per hour pic.twitter.com/bct9srwryB

— Mike Camerlengo (@MCamerlengo) October 26, 2020
The Pick Six That Wasn't
26 Oct, 2020
DK Metcalf is a freak of nature.
The 6-foot-4, 229-pound receiver showed his unique ability Sunday night, but not in the usual way a wideout would display his talents. It wasn't a posterization, a Mossing, or a ridiculous sideline catch.
No. Metcalf made the world marvel at his talents by making a tackle.
Midway through the second quarter, with the Seattle Seahawks closing in on a touchdown at the 3-yard-line, Russell Wilson was intercepted by Arizona Cardinals safety Budda Baker.
That's when the chase began.
Baker, who ran a 4.45 second 40-yard-dash during his NFL Combine workouts, streaked down the sideline. Metcalf showed the difference between 4.4 speed and 4.33 speed. The wideout stalked Baker from yards behind and finally dragged the Cardinals safety down short of the goal line.
"I was running, and next thing you know, I see big 14 coming after me," Baker said after the game, via the Seahawks official team website. "He got me. That's the first time I've ever been hawked in my entire life."
A seemingly sure pick-six was saved. Then the Seattle defense held Arizona out of the end zone on fourth down.
Metcalf's hustle saved the Seahawks seven points.
Seattle would go on to lose 37-34 in overtime, but it took none of the shine off Metcalf's effort.
Cardinals coach Kliff Kingsbury said he was certain Baker was going to score.
"Until that huge stallion of a human came galloping out of nowhere," Kingsbury marveled. "Phenomenal anticipation by (Baker). DK Metcalf is an absolutely freak athlete, and what an effort play by him. High school coaches will be showing that one for years. Just don't give up on a play."
Next Gen Stats clocked Metcalf at a top speed of 22.64 mph when chasing down Baker, fourth-fastest by any player in 2020. He also traveled 108.8 yards of distance, most yards traveled on a tackle from scrimmage this season.
"That was one of the best football plays I've ever seen," Seahawks coach Pete Carroll said. "It was just remarkable. You saw him realize what was happening, the opportunity, and he just used all that marvelous skill that he had and will to go run the guy down. And it was such an incredible play because of what happened afterwards. The defense followed and rallied, got out of there on four downs and took the ball off them, the offense goes (97) yards with the drive and scores. I just think that it was an inspiring play, nobody could miss it. Everybody that was watching that play, whether you like football or not, you can see that was something extraordinary. I've just never seen one quite like that, and the follow up, because of the inspirational moment was extraordinarily well done, so really a great play for all time."
The impressive part isn't that Metcalf tracked down Baker. We've seen speed before. It's that Metcalf did so at 229 pounds. Rarely do such big men rumble so quickly.
Metcalf is the only player listed at 210-plus pounds to have a max speed of 22.5+ mph this season, via Next Gen Stats. By comparison, Derrick Henry's max speed in 2020 is 21.62 mph.
"It was one of the most remarkable plays I've ever seen," Wilson said. "He just kept going, man. It was just unbelievable play by him, just the effort. I really respect him for that. That's what it takes, just a winning effort. Like I've told you guys, he's one of the best players in the league, he's one of the most special guys I know, he's one of my best friends, and I really respect him. Not just because of his effort on that particular play, but that's who he is, that's who he is, every day. He's consistent in that way so that's what I love him for."
Earlier this year, Metcalf was critiqued for lazily jogging toward the end zone against Dallas and watching a touchdown knocked out of his hands for a fumble. Sunday night's play made amends for that botch.
Every NFL player can respect the talent and effort it took for Metcalf to chance down Baker. Even the man who had a TD ripped away.
NFL.com
Image ESPN twitter
Mentioned In This Post:
About the author