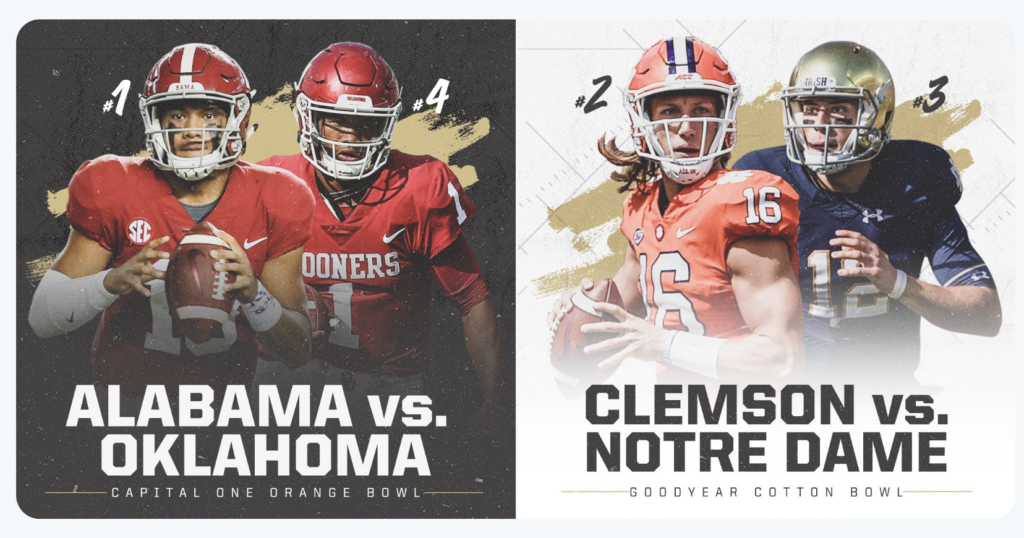 College Football Names the Final Four
02 Dec, 2018
The final College Football Playoff Rankings are out, and we already knew the top four a couple of hours ago: Alabama, Clemson, Notre Dame and Oklahoma. In fact, we knew the top six with the CFP Selection Committee deciding to place two-loss Georgia over Big Ten champion one-loss Ohio State to some smattering of controversy.
At the conclusion of Saturday night's conference championship games, numerous analysts were advocating for the Bulldogs not only in the top six but in the top four of the CFP field. The argument was that Georgia's performance at Alabama was enough for it to deserve a spot over Oklahoma despite the fact that it had two losses on the season, including a 20-point defeat at LSU. While that did not get UGA in the field, it did boost it ahead of OSU in the final rankings — not that those numbers matter too much.
Let's take a look at the entire top 25.
College Football Playoff Rankings, Dec. 2
Alabama (13-0)
Clemson (13-0)
Notre Dame (12-0)
Oklahoma (12-1)
Georgia (11-2)
Ohio State (12-1)
Michigan (10-2)
UCF (12-0)
Washington (9-3)
Florida (9-3)
LSU (9-3)
Penn State (9-3)
Washington State (10-2)
Kentucky (9-3)
Texas (9-3)
West Virginia (8-3)
Utah (9-4)
Mississippi State (8-4)
Texas A&M (8-4)
Syracuse (9-3)
Fresno State (11-2)
Northwestern (8-5)
Missouri (8-4)
Iowa State (8-4)
Boise State (10-3)
CBS Sports
Image ESPN twitter
Mentioned In This Post:
About the author