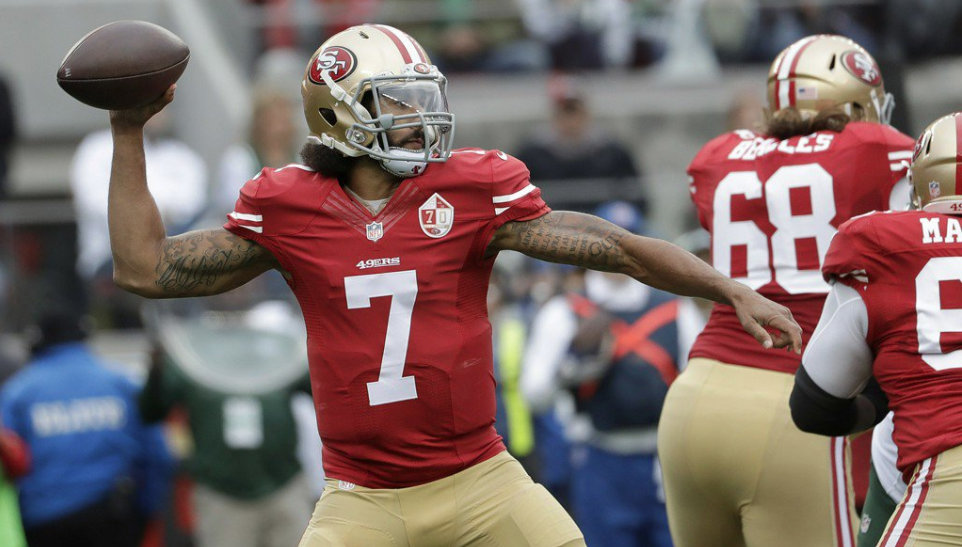 Kap To The Texans?
06 Nov, 2017
The Houston Texans coach, Bill O'Brien, says he and general manager Rick Smith have discussed signing Colin Kaepernick in the wake of last week's season-ending injury to Deshaun Watson.
When asked about Kaepernick on Monday, a day after Tom Savage struggled in a loss to the Colts, O'Brien said: "We talk about the roster and what's out there every day Rick and I." When pressed on whether they have specifically discussed adding Kaepernick he said: "Oh yeah, everybody gets discussed."
O'Brien added a positive assessment of Kaepernick, although he noted that the quarterback has been out of the game for some time: "Colin Kaepernick is a good football player, hasn't played in a while. These things are going to continue to be discussed."
Kaepernick, the former 49ers quarterback, began the national anthem protest movement by kneeling last season. He remains unsigned and has filed a complaint that team owners colluded against him because of the protests, which are aimed at police brutality against African Americans and other social justice issues.
The Texans have not been particularly active in the NFL protests, but the majority of the team kneeled during the anthem before a game on 29 October at Seattle after a report revealed that team owner Bob McNair said, "We can't have the inmates running the prison," during a meeting of NFL owners about players who protest by kneeling. No member of the team kneeled this week before Houston's annual salute to service game to honor members of the military.
Watson was enjoying one of the best ever rookie seasons by a quarterback until a torn ACL ruled him out for the year. Tom Savage stepped up as a replacement on Sunday, and was underwhelming: he completed just 43% of his passes in a 20-14 loss to the Indianapolis Colts. O'Brien said he expects Savage to start the Texans' next game.
Savage was critical of his own performance after the game. "It's probably the most frustrating game of my life," Savage told the Houston Chronicle. "It's just one of those deals that I just wasn't making the throws and guys were open. I'm not going to give you the politically correct answer and say like blah blah blah we can get better. No, I have to make the throws. I played like crap. That's what it is."
The Guardian
Image SunSentinel twitter
Mentioned In This Post:
About the author