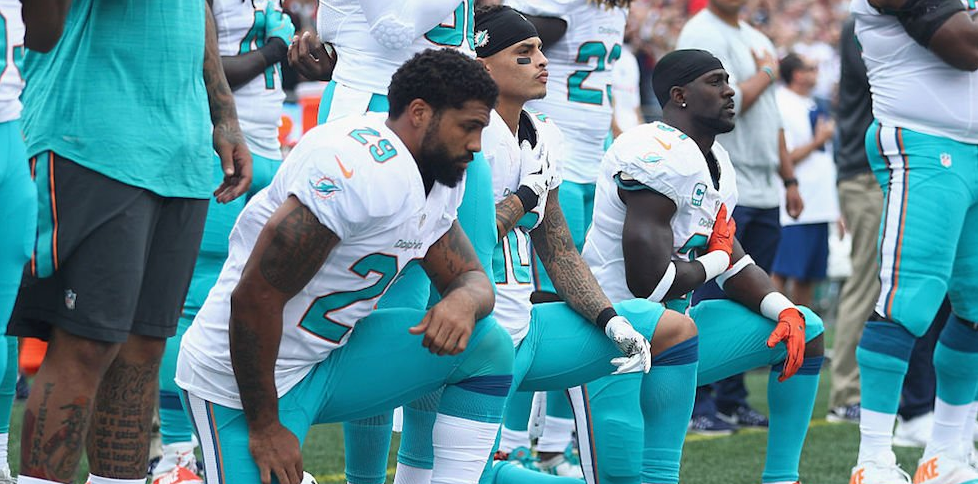 NFL Owner Vows "All Our Players Will Stand" For National Anthem
06 Mar, 2018
If any Miami Dolphins player wants to kneel during the national anthem during the 2018 season – and beyond – team owner Stephen Ross has news for them: don't even think about it.
"All of our players will be standing," Ross told the Daily News Monday at the Marriott Marquis in Times Square, where he was honored by the Jackie Robinson Foundation with its ROBIE Lifetime Achievement Award.
Ross, the real estate titan, said that at first he supported NFL players taking a knee during the national anthem, a movement started by former 49ers quarterback Colin Kaepernick two years ago. Kaepernick, now a free agent, was protesting against racial injustice, and many players on other teams have repeated the protests since Kaepernick's seminal decision.
"Initially, I totally supported the players in what they were doing," said Ross. "It's America and people should be able to really speak about their choices."
But Ross said his feelings changed when he felt the message being sent by players kneeling was a protest against "support of our country or the military." Ross seemed to give a tacit endorsement of President Trump's tweets last year, when Trump switched the narrative on the issue by blasting players taking a knee during the anthem because, in Trump's mind, the players were disrespecting the flag and the country.
"If a player wants the privilege of making millions of dollars in the NFL, or other leagues, he or she should not be allowed to disrespect our Great American Flag (or Country) and should stand for the National Anthem. If not, YOU'RE FIRED. Find something else to do!" Trump tweeted in September.
"When that message changed, and everybody was interpreting it as that was the reason, then I was against kneeling," said Ross. "I like Donald (Trump). I don't support everything that he says. Overall, I think he was trying to make a point, and his message became what kneeling was all about. From that standpoint, that is the way the public is interpreting it. So I think that's really incumbent upon us to adopt that. That's how, I think, the country now is interpreting the kneeling issue."
Ross said he's still in communication with Trump – the two men's football ties stretch all the way back to the USFL days before that football league folded – and Ross said he thinks the president "is concentrated on making the country better."
The 77-year-old Ross, who is on the board of directors for the Jackie Robinson Foundation and received the ROBIE award for being a "longtime champion of equal opportunity."
NY daily News 
Image thehill twitter
Mentioned In This Post:
About the author