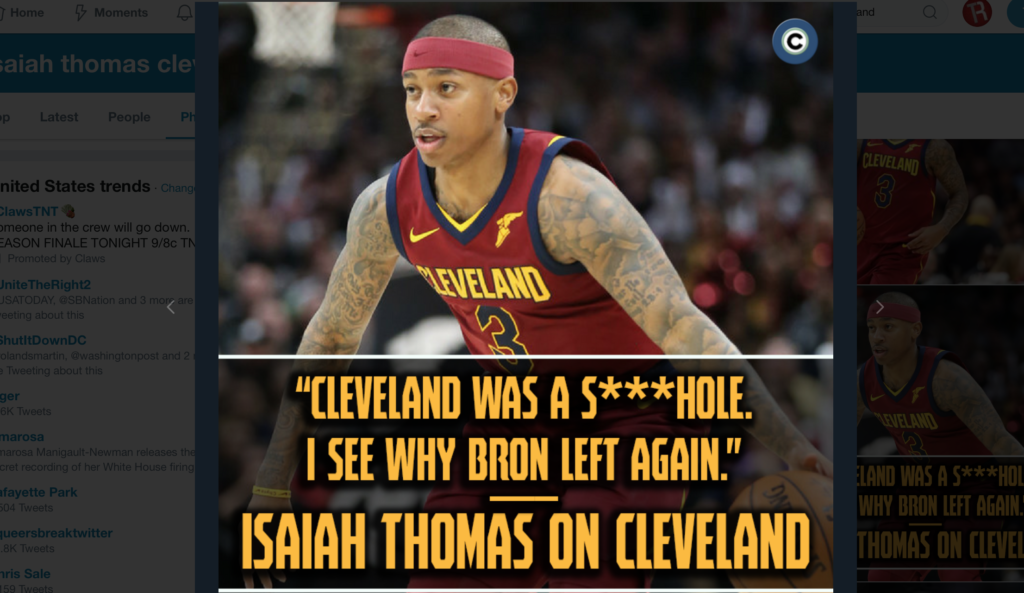 IT speaks his mind: "Cleveland was a sh*thole. I see why Bron left. Again."

(h/t pacowxston/Instagram) *NSFW* pic.twitter.com/DehbFS1sRD

— Bleacher Report (@BleacherReport) August 12, 2018
Tell Us How You Really Feel About Cleveland
12 Aug, 2018
Former Cleveland Cavaliers point guard Isaiah Thomas apologized for calling Cleveland a "s—hole" during what he termed "playing around" on his social media Saturday night.
Thomas, who has bounced around the NBA throughout his career, was discussing the various cities where he has played and sharing an opinion on each. When he got to his brief stint with the Cavaliers, Thomas made those vulgar comments before adding "I can see why LeBron left — again."
Thomas quickly realized his mistake, turning to his Twitter to issue an apology. He then followed that up with an Instagram video.
"No, Cleveland wasn't that bad," Thomas said in the second video. "That was my fault. Cleveland was actually cool. It was alright. The situation just wasn't the best, but I apologize for saying it was a s—hole. It wasn't a s—hole. . The team was dope. The players was filthy. My guy Gio. Training staff was cold. Cleveland was cool. I shouldn't have said that."
Thomas was part of the blockbuster deal involving Kyrie Irving last off-season, coming over from the Boston Celtics. But after an impressive debut with the Cavaliers on Jan. 2 — following months of rehab from a significant hip injury — Thomas made little positive impact before getting dealt to Los Angeles during a roster overhaul at the trade deadline.
A quiet summer led to him signing with the Denver Nuggets — his sixth team.
Saturday's rant won't have any impact on that free-agent deal, of course. But as Thomas learned, he will need to choose his words more carefully to avoid burning anymore bridges.
This is an era of social media, where everything can become a story and a message on his Instagram Live that he thought was harmless and intended for a specific audience can live forever.
There is no unsend button. And Cleveland won't forget. Oh by the way, the Nuggets come to The Q on Nov. 1.
Cleveland.com
Image Isiah Thomas twitter
Mentioned In This Post:
About the author