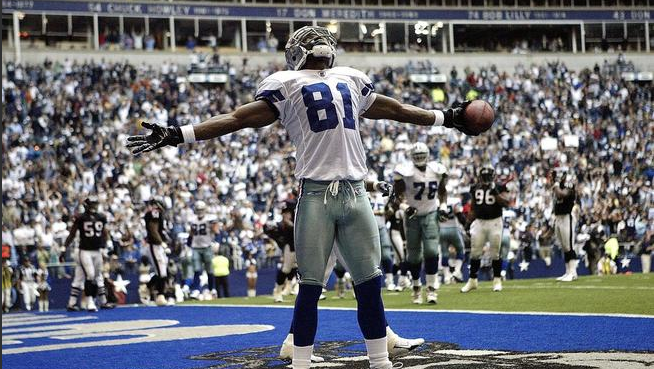 Terrell Owens Give The Middle Finger to the Hall of Fame
07 Jun, 2018
Former All-Pro wide receiver Terrell Owens has publicly declined his invitation to attend the Aug. 4 Pro Football Hall of Fame enshrinement ceremony in Canton, Ohio. Owens made the announcement Thursday via an official statement.
"I am so grateful for all of the support my family, friends, and certainly my fans, have shown me throughout my entire career in the National Football League. When it was announced that I was going to be inducted into the Pro Football Hall of Fame, the response received from my fans was overwhelming, and I am truly humbled. I am honored to be included among this group of fellow inducted individuals.
"While I am incredibly appreciative of this opportunity, I have made the decision to publicly decline my invitation to attend the induction ceremony in Canton. I have already shared this information with the Hall. After visiting Canton earlier this year, I came to the realization that I wish to celebrate what will be one of the most memorable days of my life, elsewhere. At a later date, I will announce where and when I will celebrate my induction.
"I would also like to thank the San Francisco 49ers, the Philadelphia Eagles, the Dallas Cowboys, the Buffalo Bills and the Cincinnati Bengals for the time I was granted with each organization. I am thankful for the relationships forged and the lessons learned while part of each team.
"I wish to congratulate all past, current and future inductees. It is quite an honor to be part of such elite company. This honor is something that I will cherish forever."
Owens played 15 seasons in the NFL with the aforementioned teams, recording 1,078 catches for 15,934 yards and 153 touchdowns in 219 games played. Owens spent his final NFL season with the Bengals before exiting the league after the 2010 campaign. He was selected for induction in his third year of eligibility.
The decision to decline the invitation and not attend his own induction ceremony is unprecedented.
"We are disappointed by will respect Terrell's decision not to participate in the Enshrinement," Pro Football Hall of Fame president and CEO David Baker said in a statement. "While unprecedented, the Pro Football Hall of Fame, the nearly 5,000 volunteers and the entire community are committed to celebrating the excellence of the Class of 2018 that will kick off the NFL's 99th season.
"As we do not want to detract from this great honor being enjoyed by the seven other members of the Class of 2018 (Bobby Beathard, Robert Brazile, Brian Dawkins, Jerry Kramer, Ray Lewis, Randy Moss and Brian Urlacher), their family, friends, and fans; the Pro Football Hall of Fame will have no further comment on the decision made by Terrell Owens."
NFL.com
Image BlueStarBlog twitter
Mentioned In This Post:
About the author